Stewart's Advertisers Are Excited for a New Beginning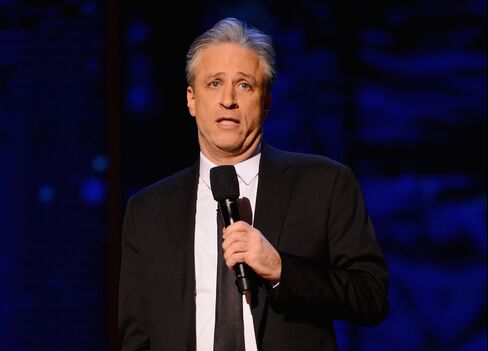 Jon Stewart fans started grieving six months ago, when he announced his retirement from "The Daily Show," and won't know what to do with themselves after he signs off tonight. But advertisers have a few ideas.
Stewart's somewhat hipper, two-decades younger successor, Trevor Noah, could create new opportunities for them and broaden viewership for a program whose audience's median age is 46.
"The floor is open for Comedy Central to make this a great thing," said Marcus Collins, executive director of social engagement at the advertising agency Doner, whose clients include JC Penney Co. and Fiat SpA.
Stewart's departure caps a tumultuous few years in late-night television, with David Letterman and Jay Leno retiring and Stephen Colbert and Conan O'Brien switching networks. For advertisers, the changes have been invigorating, giving them the chance to market on the Web and mobile devices with personalities who reach younger, more tech-savvy viewers.
"It's bringing a resurgence to the space," said Darcy Bowe, media director at Starcom USA, a media buying firm.
Viacom Inc.'s Comedy Central, which lost "The Daily Show" guest-host John Oliver to HBO and Colbert to CBS, where he replaces Letterman starting Sept. 8, has taken the brunt of the changes. Ad revenue may fall 8.4 percent to $418 million this year, according to SNL Kagan.
"Be prepared for some advertisers to be cautious at first to align with the new host right out of the gate, given some of Mr. Noah's controversial remarks discovered on social media," said Karen Benson, executive vice president of integrated media at the Deutsch agency.
Whatever happens to ad spending under Noah, it may get a liftoff on Stewart's farewell, when he's expected to be allowed to run long past his regular 30-minute allotment.
Funny News
Viacom asked advertisers for a commitment of $1.5 million, and the purchase of spots on several of its networks, to secure a slot on his final show, according to the trade publication Advertising Age. Takers include Anheuser-Busch InBev, T-Mobile US Inc. and The Weinstein Co.
The median age of "The Daily Show" viewers is the highest of all the late-night talk-shows, as is their median household income of $79,500, data from the research firm Magna Global show. Noah, who takes the host chair on Sept. 28, told TV critics last week that he recognizes the audience may evolve as the comical takedown of current events does.
"Jon is a white 52-year-old Jewish guy that grew up in Jersey. I am a 31-year-old half-black, half-white South African," he said. "Jon and I come from two totally different points of view."
And how Americans consume news, even funny news, is undergoing a transformation too, he said. "The way people are absorbing their news in sound bites and headlines and little click links has changed everything. So the biggest challenge, and it's going to be an exciting one on the show, is how do we bring all of that together."
Still Mourning
Successions aren't always smooth, and advertisers weren't initially sure how Jimmy Fallon would do last year replacing Leno, who'd hosted what was the top-rated late-night talk show. But Fallon's Facebook- and YouTube-ready skits, such as his recent lip sync battle with Tom Cruise, have given sponsors new ways to reach consumers, Doner's Collins said. "He created franchises that were scalable, repeatable on multiple devices. It made me to want to watch the next morning."
For Stewart's most devoted base, his exit will be tough to take, and there are probably Letterman and Leno fans who are still mourning.
"I'm sure some people are sad these shows are transforming," said Catherine Warburton, chief investment officer at Assembly, a media buying agency. But change is making "the late night category the most vibrant in TV."
Before it's here, it's on the Bloomberg Terminal.
LEARN MORE