Oil-Sands Producers Mimic Coal Cost Cuts as Prices Spiral Lower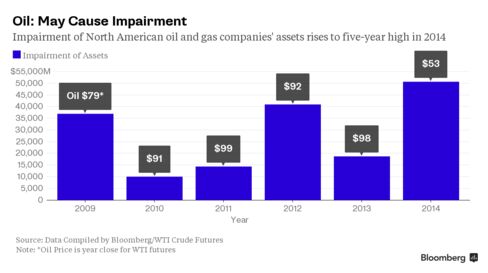 Canada's oil-sands companies are starting to look like their coal-company cousins -- struggling to cut costs fast enough to keep up with sinking prices.
The latest retrenchments in the oil sands came as North American crude slid to about $45 a barrel on Wednesday from almost $100 a year ago. Last week, Suncor Energy Inc., Canada's largest producer, reduced its 2015 spending plan for a second time and Cenovus Energy Inc. said it cut its workforce by another 400 jobs.
"The new economic reality for our industry includes low oil prices," Brian Ferguson, Cenovus chief executive officer, said in the company's July 30 second-quarter earnings release. "We must adapt by reducing all of our costs and becoming as efficient as possible."
The battle with languishing commodity prices is old news for producers of metallurgical coal such as Teck Resources Ltd., which have been on a four-year crusade of cutbacks as prices for the steelmaking ingredient plummeted. The campaign is only starting for oil-sands companies, data compiled by Bloomberg show.
Impairment costs, a measure of writedowns, surged 10-fold at 46 North American coal companies from 2009 to 2014, according to data tracked by Bloomberg. Producers responded by cutting thousands of jobs and reducing capital spending by more than half. That allowed them to boost operating margins to 18 percent in 2014 from 12 percent in 2012.
China Growth
While impairments at North American oil producers are at their highest level since 2009, operating margins still declined for five of the six biggest Canadian oil-sands companies over the last year, data compiled by Bloomberg show.
Some companies are driving down costs. Cenovus lowered operating costs by 30 percent per barrel in the second quarter, the company said last week. Suncor reduced operating costs to C$28 a barrel in the quarter from C$34.10 per barrel a year ago. Husky Energy Inc. has locked in C$575 million of as much as C$600 million in planned cost cuts this year, Chief Executive Officer Asim Ghosh said on a July 28 call.
The Standard & Poor's/TSX energy sub-index, whose biggest members include Suncor, Cenovus and Canadian Natural Resources Ltd., has dropped 14 percent this year, about in line with the decline for the U.S. crude benchmark. Canadian heavy crude prices closed at $27.65 a barrel Wednesday, the lowest in six years.
Risks to growth in China, the prospect of increased Iranian exports after this month's nuclear deal and a strengthening dollar "could continue to press oil lower," Bank of America said in a July 24 note. The bank cut its third-quarter estimate for Brent to $50 a barrel from $54, while West Texas Intermediate was lowered to $45 from $50.
'Survival Mode'
Producers will have to keep trimming budgets and operating costs to outlive the downturn, Fadel Gheit, an analyst at Oppenheimer & Co. in New York, said by phone.
"The companies are in survival mode now, they're not in growth mode anymore," Gheit said. "They will lean very hard on their suppliers and contractors, they will replace contractor personnel with their own."
An important difference between coal and crude is that demand for oil continues to grow while coal was dependent on the growing Chinese hunger for steel in earlier stages of its economic boom, Mark Oberstoetter, an analyst at Wood Mackenzie in Calgary, said in a July 29 interview. The problems for the coal industry "are more structural in nature than cyclical" as Chinese steel demand peaked last year, he said.
'Similar Boat'
Falling demand "shouldn't be as quick with oil," Andrew Cosgrove, energy analyst at Bloomberg Intelligence, said in an phone interview. Still, Chinese diesel and gasoline demand may peak in the next couple of years.
That means a continual battle against expenses in one of the highest-cost places to produce oil in the world.
Even with all its cost cuts, coal's battle to be competitive continues. Alpha Natural Resources Inc. filed for bankruptcy protection on Aug. 3 despite having cut more than 6,500 jobs and closing about 90 mines since 2011.
The combined market capitalization of publicly traded U.S. coal companies shrank to $11 billion on Aug. 4 from $78 billion in 2011, according to data compiled by Bloomberg. Vancouver-based Teck has stripped out costs and cut five percent of its workforce, yet its share price remains depressed.
Teck exceeded the cost reduction goal set in April 2014 with its C$252 million of savings that year and expects to achieve its target of an additional C$100 million of cuts in 2015, Chris Stannell, a spokesman, said in an e-mail.
"Coal has been very, very efficient at driving down costs so there may be some lessons for the oil sands," Oberstoetter said. "The big question for us is the future of these oil-sands projects: can they bring down the costs enough to compete with deep oil in Brazil or shale?"
Before it's here, it's on the Bloomberg Terminal.
LEARN MORE