Shut Out of Big Property Deals, Moody's Loosens Its Approach
Moody's Investors Service is planning to change its approach to rating a fast-growing type of commercial-mortgage-backed security that could result in better grades on many deals and bring the firm more business.
The company said Thursday that it was requesting feedback on proposed changes to the way it assesses some of these securities, including those that transform giant single mortgages -- such as on a portfolio of hotels -- into a series of bonds with varying risks. Based on the new criteria, Moody's said that it may raise its ratings on many securities by one to three levels.
The firm had been all-but shut out of those deals, so the move would likely help Moody's win more business. It also raises questions about whether the firm is caving in to pressure from Wall Street banks to offer more favorable grades.
"The proposed changes are grounded in a rigorous analysis of the sector and our expectations of future performance," said Thomas Lemmon, a spokesman for Moody's.
The new ratings criteria is related to deals known as single asset/single borrower and multi-borrower large-loan transactions. The firm said it was adjusting the loan-to-value ratios it uses as a benchmark in grading such deals, after they "performed in line with or exceeded Moody's expectations" following the 2008 financial crisis.
Single-Borrower Market
In the first half of this year, it ranked behind four other credit graders on U.S. single-borrower transactions, assigning ratings on just four of 28 deals, according to data compiled by Commercial Mortgage Alert. Moody's was the top grader for more traditional "conduit/fusion" sales, offering ratings on each of the 27 deals of that type, even while being left off of lower-ranking portions.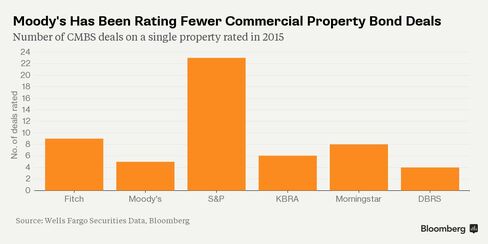 "This proposed methodology change may increase the number of deals rated by Moody's in the future," Morgan Stanley analyst Richard Hill wrote Thursday in a note to clients.
Moody's has been among the most vocal credit graders in warning of riskier lending in the larger part of the commercial-mortgage bond market in which multiple loans get bundled together, and it has been ranking fewer of those securities, known as conduit deals.
During the housing bubble, the widespread practice of so-called ratings shopping fueled a "race to the bottom" among credit graders as they sought to avoid losing market share, helping to fuel the later financial crisis, according to a 2011 report by a congressionally appointed panel.
The single-borrower market has been driving an increasing amount of issuance in commercial bonds. Sales rose to $18.9 billion in the first half of the year, up from $10.4 billion a year earlier, while conduit offerings climbed to $27.4 billion from $25 billion, according to data compiled by Bloomberg.
In January, Standard & Poor's agreed to what the Securities and Exchange Commission called a one-year "timeout" from assigning ratings on conduit securities in a settlement over claims it bent criteria to win business.
Moody's Corp. shares were trading at $109.73 at 10:56 a.m. in New York on Friday, after closing at $110.31 on Thursday.
Before it's here, it's on the Bloomberg Terminal.
LEARN MORE