If You Think Apple Shares Are Doing Badly, Check Out Samsung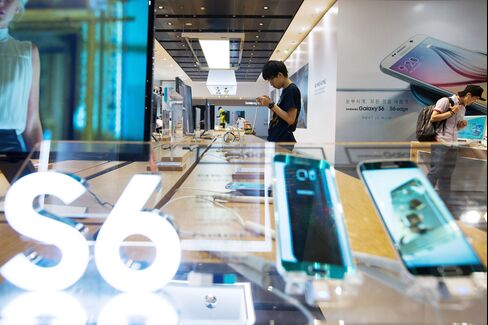 As investors fret about a plunge in Apple Inc., the losses in Samsung Electronics Co. are even deeper.
Samsung has tumbled 16 percent this year as weakening demand for the company's Galaxy smartphones spurred a fifth straight profit decline in the second quarter. The stock -- Korea's largest by market value -- has lost $60 billion since this year's peak and dropped a further 3.8 percent on Thursday.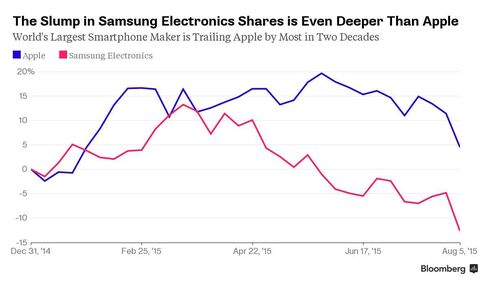 While Samsung remains the world's largest smartphone maker, its global share has been steadily falling. Sluggish demand for the company's high-end Galaxy 6 prompted it to cut prices just four months after the device's debut, while Chinese rivals eat away at its cheaper models. Tepid demand for memory chips, particularly for personal computers, is also dragging on the company's earnings.
The Korean company will continue to face competition from Chinese brands, while its payouts aren't high enough to lure more funds, according to Paul Chan, the Hong Kong-based chief investment officer for Asia excluding Japan, at Invesco Ltd.
Apple, the biggest stock in the world, has fallen more than 10 percent from its February high to enter a correction amid concern over whether the company can keep making highly desirable products. Even after the decline, Apple shares are the highest relative to those of its Korean rival by the most in two decades.
Before it's here, it's on the Bloomberg Terminal.
LEARN MORE