If They Weren't His Apprentice Winners, Trump Might Call Them 'Losers'
A new way to measure Donald Trump's business-savvy leadership: His reality-TV protégés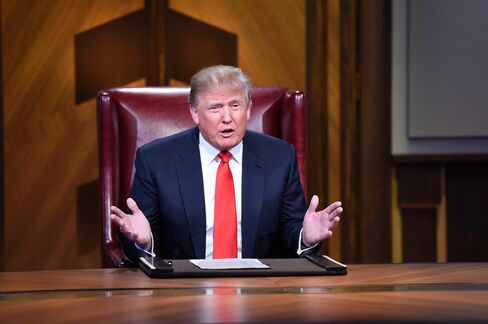 Donald Trump's main qualification for president, according to Donald Trump, is the business genius behind his debatable fortune worth uncertain billions. And the most visible showcase for this acumen is The Apprentice, a long-running TV competition over which he presides as host, judge, and executioner. Episodes typically end with the ritual firing of a contestant until a single person prevails in what Trump heralds as the "ultimate job interview." The prize: a one-year gig running one of Trump's various corporations.
In theory, at least, that makes a reality-TV show a reasonable way to judge the decision-making prowess of the current Republican front-runner. Looking back at the résumés of former Apprentice winners, has Trump managed to handpick the future executive powerhouses of American capitalism?
"I would say he's a good judge of talent. I look at the other winners of the show—we've all gone on to do some great things," says Randal Pinkett, who won Season 4. Most of the Apprentice winners have enjoyed successful careers following their time with Trump (at least if you exclude the Celebrity Apprentice winners). Yet it's unclear how much Trump and his businesses had to do with their future triumphs.
Pinkett's grand prize put him in control of a $100 million budget to renovate three properties in Atlantic City. Today, following his off-camera work in Trump's organization, Pinkett is the chief executive officer of a multimillion-dollar company called BCT Partners. That's an impressive job—but it's also the same one he held before appearing on the show almost a decade ago.
Perhaps the best training from winning Trump's show comes from perfecting the art of personal branding. "The apprentices' $250,000-a-year gigs are less about climbing the corporate ladder, and more about using their Apprentice celebrity to promote Trump," noted Newsweek's Ramin Setoodeh in 2005. A big chunk of the winners' one-year job with Trump is spent on public-speaking engagements and media appearances, cultivating the power of fame itself.
Of the seven non-celebrity Apprentice winners, several came out masters of self-promotion and turned their association with the show into a business. Bill Rancic, the champion of Season 1, wrote in the biography on his website that his life didn't begin until he "burst onto the scene when he was hired by Donald Trump." Now he's a professional talking head and motivational speaker—or as Fox News described him in 2010, "a sometime real estate developer who focuses mainly on his reality television career, public speaking and being the less famous half of a celebrity couple." (His wife, Giuliana Rancic, is the former host of E! News.) Stefanie Schaeffer, from Season 6, landed on TV Guide's list of most beautiful reality-TV stars, which she parlayed into a hosting gig on the magazine's network.
Sometimes this means harnessing your newfound expertise in the ways of Trump. Kelly Perdew, hailed by Fox News as "arguably one of the most successful winners" of the The Apprentice, has an impressive profile on LinkedIn: "Co-Founder & CEO – TargetClose, Entrepreneur, Angel Investor, Mentor, Winner of Apprentice 2 and Father of Twins." He also wrote a book about his signature experiences: Take Command: 10 Leadership Principles I Learned in the Military and Put to Work for Donald Trump. The winner of Season 3, Kendra Todd, went on to become a recap writer on NBC.com for The Apprentice: Martha Stewart and also appeared in an infomercial for Tae Bo.
"To this day, I still get a regular stream of requests for speaking engagements and appearances," says Pinkett. "There's still that recognition and association of me with the show."
That's not to say the winners don't also have careers outside their mild celebrity. Todd runs a Keller Williams real estate group in Seattle. The winner of Season 10, Brandy Kuentzel, works as corporate counsel and director of advocacy at the San Francisco SPCA. Sean Yazbeck, the Season 5 champion, is now the president and founder of Wavsys, a provider of engineering services in the telecom industry.
But even that might not prove the keenness of Trump's hiring skills. Of the people selected as contestants, many come in with impressive backgrounds. "The show is already looking for people who are doing great things. He is picking from among 18 overachievers," says Pinkett. "I was a Rhodes scholar. That's like picking among the Rhodes scholars."
Before it's here, it's on the Bloomberg Terminal.
LEARN MORE