Icahn Doubles Down on Energy With Gas Exporter Stake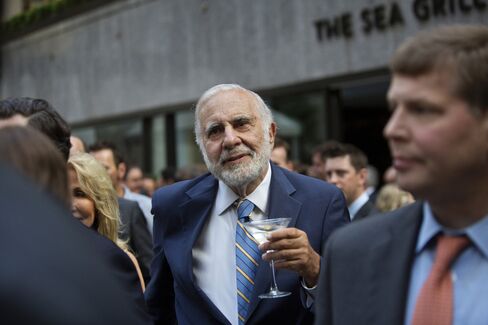 Billionaire investor Carl Icahn is doubling down on energy after losing hundreds of millions in the sector this year amid the worst commodity price crash in a generation.
Icahn on Thursday reported a new 8.18 percent activist stake in Cheniere Energy Inc. and plans to seek talks with the natural gas exporter's management and perhaps board seats "if appropriate."
Shares of the gas exporter are undervalued and Icahn will seek discussions on "operations, capital expenditures, financings and executive compensation," according to a 13D regulatory filing Thursday. No talks have happened yet. Cheniere jumped as much as 6.5 percent to $69 in after-market trading, after closing at $64.81.
In a potential showdown with Cheniere, which has lost money for at least 21 consecutive years, Icahn is training his sights on an innovative and little-known company that is likely to become the first to export a bounty of gas from U.S. shale formations. He may also bring focus to Cheniere's charismatic chief executive, Charif Souki, who drew fire last year after it was revealed that he received more than $140 million in 2013 compensation.
Cheniere's per-share value has jumped more than 30-fold from a low of $1.77 in 2009 to $65 as Souki moved to build the Sabine Pass liquefied natural gas terminal in Louisiana, which is expected to start shipments this quarter.
Gas Bet
Icahn is betting on gas exports after suffering on-paper and real losses on producers including Talisman Energy Inc. and Chesapeake Energy Corp. as a glut of the fuel collapsed prices. The value of his Chesapeake stake has fallen more than 40 percent since he dramatically boosted his holdings in 2012. In February, his publicly traded holding company Icahn Enterprises LP reported its first annual net loss since 2008, saying oil's "precipitous decline" overwhelmed gains at Apple Inc. and other stakes.
Faith Parker, a spokeswoman for Cheniere, didn't immediately return a phone message and e-mail request for comment. Icahn didn't immediately respond to a phone call seeking comment after regular business hours.
Cheniere was one of a handful of U.S. operators that built gas-import terminals during the last decade, planning to cash in on a forecast shortage of the fuel. But when the drilling and fracturing innovations triggered the shale revolution and unleashed vast new supplies, Souki changed course and began building an export complex to send gas overseas.
Shareholder Revolt
The company, which says it's poised to become the biggest buyer of U.S. natural gas, is also building a second export terminal in Corpus Christi, Texas. The sites will chill the gas into a liquid that can be loaded on tankers and delivered to customers around the world.
Souki was the highest paid CEO in corporate America in 2013. After a shareholder revolt and lawsuit, the board reduced his salary to $1 last year.
Some investors defended the pay, noting that Cheniere has a head start on more than a dozen companies also trying to build export plants. Cheniere's project is scheduled to be completed first, and some market analysts believe only a handful will ever be developed.
Icahn, 79, rebranded as an activist investor and outspoken shareholder advocate after gaining fame as a corporate raider in the 1980s. His Icahn Associates Corp. has recently taken large stakes in companies including Apple Inc., Netflix Inc., Manitowoc Co. and Gannett Co., agitating for shareholder-enriching changes.
The New York-based investor is worth more than $21 billion, according to Bloomberg Billionaires, and primarily invests his own fortune, rather than relying on money from outsiders.
Activist investors buy equity stakes in publicly traded companies and push executives and directors to make changes they argue will boost shareholder returns.
Before it's here, it's on the Bloomberg Terminal.
LEARN MORE