Here's How Taylor Swift's Songs Could End Up Back on Spotify
If Ryan Adams actually makes a cover album of 1989, Swift would be unable to keep it off the service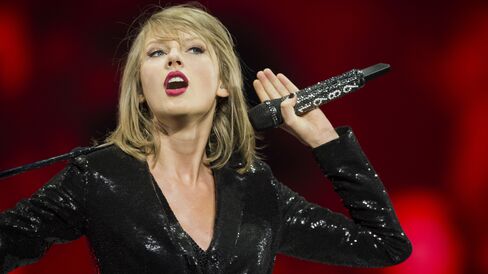 Ryan Adams is covering Taylor Swift's album 1989, in the style of the Smiths. This has some people — including Swift herself — pretty excited. It also could mean her songs will end up back on Spotify, even though it won't be her singing them.
Adams revealed the project through a series of posts on Twitter and Instagram, none of which gave any firm details on plans for an actual release. But if he does release the tunes as a record, it's likely he would put them on Spotify. Adams already has more than a dozen albums on the service, and in 2014 he even recorded a live session specifically for Spotify.
https://instagram.com/p/6CWEZEzDNy/
Swift would have no viable way to stop Adams from posting a tribute to her on the service she has spent months railing against. People have the right to produce and distribute cover songs without asking permission. Prince, for instance, thinks it's sacrilege for other artists to record versions of his work. When Sinead O'Connor covered his song Nothing Compares 2 U, the two even got into a physical fight over it, by O'Connor's account. But Prince couldn't stop her from recording the song. And you can listen to it on Spotify, even though Prince pulled all of his music from the service. (Almost immediately after doing so, he released some new music on Spotify. Prince is a confusing guy.)
The idea of so-called compulsory licensing has been getting attention lately, because songwriters feel they're being underpaid for their work. But having compulsory licensing makes the music business more efficient and serves a social good, according to Casey Rae of the Future of Music Coalition. "After all, what would the world be like if Patsy Cline had never recorded 'Crazy' by Willie Nelson," he writes in a blog post.
https://twitter.com/taylorswift13/status/629214295390224384
If Adams's album of Swift covers does make it onto Spotify, the company will have to start sending her checks. For each dollar a song generates through a streaming service, the songwriting royalties are worth about 11¢. But that gets split among the publisher and everyone who has a songwriting credit on the track, and Swift shares those credits with other people on every song from 1989.
If she was unhappy about the size of her checks from Spotify before, she's not going to be pleased about these ones, either.
Before it's here, it's on the Bloomberg Terminal.
LEARN MORE