Greek Stock Spectacle Means Less and Less to Europe Traders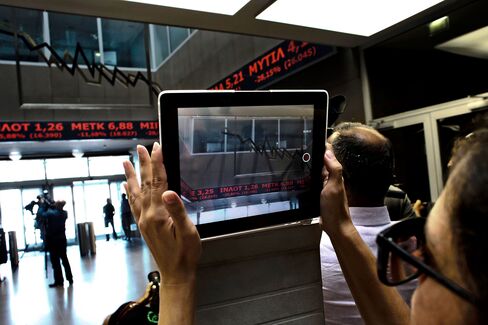 The plunge in Greek equities that's erased $10 billion in market value this week is stirring up little concern among European investors.
The nation's equities have tumbled 15 percent since the Athens Stock Exchange reopened on Monday, with banks hovering near record lows. In contrast, the Stoxx Europe 600 Index rose 0.9 percent, buoyed by what JPMorgan Chase Co. said is the best earnings season in at least six years.
Greece, which accounts for less than 2 percent of the euro area's economy, is drifting further from its neighbors as capital controls and political uncertainty hurt growth, while the broader region recovers. Emergency curbs to trading added to the distance this week, restricting Greek traders just back to work after the exchange's five-week shutdown.
"Greek markets are getting more and more isolated from the rest of Europe," said Ben Kumar, a fund manager who helps oversee about $14 billion at Seven Investment Management in London. "They are really tiny now. With earnings season in full swing, European stock investors have other things to consider, and Greece is a whole separate story."
While concern that Greece's debt crisis could derail the region's recovery and break the euro dragged European shares down in recent months, calm has returned to the Stoxx 600 as investors focus on earnings reports. A measure of volatility, which spiked to a three-year high in June, fell 43 percent through yesterday.
Wild Week
In Greece, this week was one of the wildest ever, with the benchmark ASE Index slumping the most since at least 1987 on Monday. Amid capital controls, a Greek parliamentary committee expects the economy to contract as much as 4 percent this year. A report on Aug. 3 showed the nation's manufacturing industry shrank at a record pace in July. In stark contrast, data from German factory orders to service industries in Spain beat projections this week.
After three bailouts and the biggest sovereign debt restructuring in history, the value of Greek equities has plummeted almost 90 percent since a high in 2007. The ASE has lost 18 percent this year and is the second-worst performing index in the world. Even following a two-day rebound, the index is still near its lowest level since 2012.
"Greece is such a small component of the European equity markets that investors have not given it much thought," said Yogi Dewan, founder of Hassium Asset Management. "The whole stock market has been decimated."
Dramatic Moves
The Greek market is no stranger to dramatic moves. Having tumbled to a 22-year low in June 2012, the ASE subsequently rallied more than 140 percent in less than a year.
"The market can move faster and further than anyone can expect," said Dimitri Dardanis, co-head of equity trading at Piraeus Securities SA in Athens. "It all depends on what happens to the political situation in Greece and to the banks. But overall I don't think it will take the 25-odd years the U.S. market required to scale its 1929 highs."
Some investors have even said they would turn bullish on Greek stocks if the nation had nothing to do with the euro.
For now, that's only a distant possibility. According to dealers, the restrictions on bank withdrawals imposed by the Greek government as conditions of reopening the market make it easier for local investors to sell rather than buy securities, thereby slowing down any potential rebound.
"It's such a tragedy, really," said Teis Knuthsen, chief investment officer at Saxo Bank A/S's private-banking unit in Hellerup, Denmark. "We can take comfort from the fact that the rest of Europe is moving on, with strong fundamentals."
Before it's here, it's on the Bloomberg Terminal.
LEARN MORE