Gold Miners 'Fried' at $800 an Ounce as Randgold Makes Plans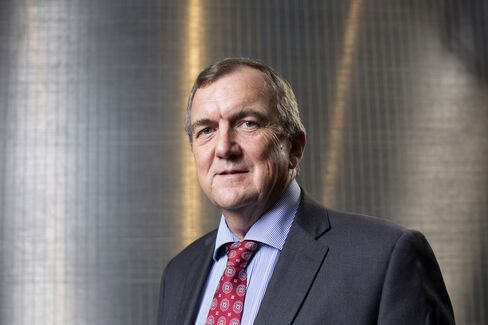 Randgold Resources Ltd., the best-performing gold mining stock in the past decade, is getting ready for another plunge in prices.
"We are already starting to see what we would need to restructure should the gold price continue to go down," Chief Executive Officer Mark Bristow said in an interview at Bloomberg's office in London on Thursday. "The industry would be fried at $800. It's a very real possibility."
The company would write down the value of assets if gold fell below $1,000 an ounce, and cut production with prices below $800. It's making plans to remain cash-flow positive in that scenario, Bristow said. The metal dropped 8.4 percent this year to $1,085.21 an ounce in London.
Randgold has so far avoided the worst of the turmoil that's wiped out profits for some gold miners and led producers to reduce asset values and raise cash. The industry is fighting to lower costs and debt levels after prices for the precious metal slumped to a five-year low.
"The big guys spend their time explaining why they're not going to go bust, not how much money they're making," Bristow said. "We'll manage this thing through. We don't want to manage this business for survival. We want to manage this business for value and the long term."
The metal's plunge is stressing balance sheets in an industry where the biggest producers are weighed down by a record debt load of $31.5 billion. The benchmark 30-member Philadelphia Stock Exchange Gold and Silver Index of the largest producers, which includes Barrick Gold Corp. and Newmont Mining Corp., has fallen to the lowest since 2000.
Randgold reported second-quarter net income of $53.6 million, little changed from a year earlier. The company had sales of $354.8 million and produced 300,039 ounces of gold.
The shares climbed 1 percent to 3,972 pence as of 9:41 a.m. in London. While the stock dropped 12 percent this year, it's still up almost fivefold since August 2005.
(An earlier version of this story corrected the spelling of company's name in the headline.)
Before it's here, it's on the Bloomberg Terminal.
LEARN MORE