Flag on 123-Story Tower Symbolizes Lotte's Identity Crisis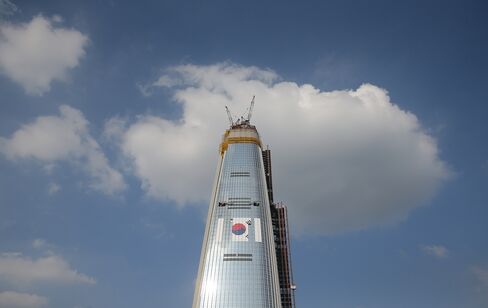 Anti-Japanese sentiment is compounding the woes of Lotte Group, a South Korean retail giant mired in one of the country's biggest family feuds.
The company that operates everything from department stores to amusements parks and hotels is being boycotted by consumers over its murky corporate structure since a succession fight between its founder's two sons surfaced last month. South Koreans are also criticizing Lotte over its "nationality" as the company is controlled by entities based in Japan and the sons, they say, have displayed poor Korean language skills.
On Thursday, the company displayed a huge South Korean flag on a new skyscraper that, when completed, will boast 123 stories and be the tallest building in the country. Many companies in the country are making shows of patriotism ahead of the 70th anniversary of Korea's liberation from Japan next week.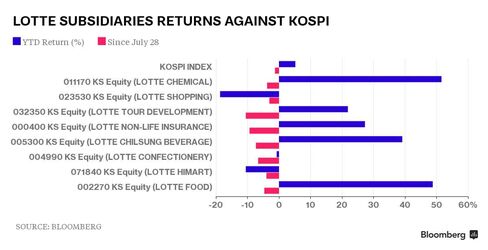 "Nationalism has gone too far," said Seol Dong Hoon, a professor of social studies at Chonbuk National University in South Korea, referring to the anti-Japanese sentiment over Lotte. "Capitalism has no nationality. What matters is whether Lotte hires people here, produces products here and pays taxes here."
Relations between South Korea and Japan have frayed in recent years amid disputes over history and territory. President Park Geun Hye is refusing to hold a summit with Japanese Prime Minister Shinzo Abe until Japan does more to address the issue of so-called wartime sex slaves.
Poor Korean
Memories of Japan's harsh 35-year rule through 1945 remain fresh among many Koreans. More than 7 million people have gone to cinemas in the past two weeks to watch a movie about a plot to kill Japan's colonial leaders.
The elder son of founder Shin Kyuk Ho invoked resentment when he used Japanese in a television interview last week to accuse his younger brother of trying to take over the group without their father's consent. He later explained that he did so because he was raised in Japan and had poor Korean.
While most of Lotte's operations are in South Korea and the company identifies itself as Korean, its controlling companies are based in Japan. The founder holds a 28 percent stake in Tokyo-based Lotte Holdings, his two sons hold about 40 percent, and a company called Kwang Yoon Sa holds 27.65 percent, according to data compiled by Bloomberg. Kwang Yoon Sa, a packaging company based in Tokyo, is owned by the founder, according to the Korea Economic Daily.
Shares of Lotte's eight listed South Korean affiliates, including Lotte Tour Development Co., have fallen 6 percent on average since the feud emerged on July 28. The benchmark Kospi index fell 1 percent in the same period.
Representing Korea
"Lotte is a group that my father and founder Shin Kyuk Ho built with an aspiration to seed dreams and hope in the mother country which was in a wreck," younger son and Lotte Chairman Shin Dong Bin said in a note to employees July 29. "Lotte will continue to contribute to the nation's economy and grow as a global company that represents South Korea."
Since its founding in Japan in 1948, Lotte has turned from a postwar gum seller into a conglomerate running about 80 units across South Korea with 112 trillion won ($96 billion) of assets.
Its ownership structure outside South Korea has been a mystery to authorities for years. South Korea's Fair Trade Commission requested information on its shareholder structure last month as it opened an investigation into its ownership structure. Finance Minister Choi Kyung Hwan on Thursday said authorities will "scrutinize the opaque ownership structure and cash flow" of Lotte if necessary.
"Negative feelings that already existed toward Lotte have combined with anti-Japanese feelings and exploded, said Cho Nam Hee, head of the Financial Consumer Agency, a non-profit group that is leading the boycott.
Before it's here, it's on the Bloomberg Terminal.
LEARN MORE