Brazilian Yields Surge as Real, Stocks Slump on Rousseff Setback
President rebuffed as lawmakers approve spending increases

Not-so-dovish central bank signal spurs retailer plunge
Brazilian local bond yields rose to records, the real led world losses and stocks slumped on speculation that Latin America's largest economy will weaken further.
The nation's assets declined after President Dilma Rousseff suffered a setback in Congress that eroded measures to pare budgets and avoid a junk credit rating. Swaps, a gauge of expectations for changes in Brazil's borrowing costs, climbed to the highest level since 2008 after a central bank signal that interest rates will stay at a nine-year high.
"The perception regarding Brazil just keeps on deteriorating," Camila Abdelmalack, an economist at CM Capital Markets in Sao Paulo, said in a telephone interview. "That was a massive defeat for Rousseff in a very delicate moment when Brazil is headed to a harsh contraction."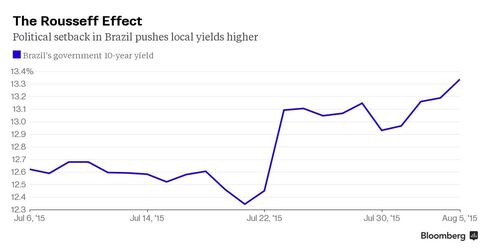 The Ibovespa retreated 0.6 percent to 50,011.32 in Sao Paulo as retailers tumbled. The currency extended a six-day slide to 3.5356 per dollar, the lowest level since March 2003. A decrease in real-denominated government bonds pushed 10-year yields to a record 13.75 percent.
Rousseff's efforts to shore up finances was rebuffed when the lower house of Congress voted to approve salary increases for police chiefs, prosecutors and government attorneys. The government has struggled to avoid another downgrade after Standard & Poor's lowered Brazil's rating to the cusp of junk in March 2014. The New York-based company last month revised its outlook for Brazil to negative.
Consumer companies in the MSCI Brazil dropped to the lowest level since 2009 after policy makers said that holding interest rates for a prolonged period will bring inflation back to its target by the end of 2016. Furniture and electronics retailer Via Varejo SA fell to a record low. Itau Unibanco Holding SA, Latin America's largest bank by market value, extended a four-day slump.
'Bad Environment'


"It's just a very bad environment," Paulo Henrique Amantea, an analyst at brokerage firm H.H. Picchioni, said by phone from Belo Horizonte. "The economic slump is already hurting companies. If interest rates stay high for a while or rise further, it will become even more difficult."
Sales missed analysts' estimates at two thirds of the Ibovespa companies that have reported second-quarter earnings, according to data compiled by Bloomberg. With inflation running at twice the government target, consumers have been slowing down their purchases amid high financing costs.
The central bank may resume increases in borrowing costs if the real declines to 4 per dollar and stays there, according to Carlos Kawall the chief economist at Banco Safra SA in Sao Paulo.
"It will impact the inflation expectations," he said in a phone interview. A weaker currency makes imports more expensive.
Citigroup Inc. said in a research report that traders are probably expecting Brazil to increase rollovers of foreign-exchange swaps to help stabilize the currency. The central bank extended the maturity on 6,000 contracts Thursday, the same as in daily offerings last week.
Before it's here, it's on the Bloomberg Terminal.
LEARN MORE