August Is No Day at the Beach With Second-Most U.S. Stock Swings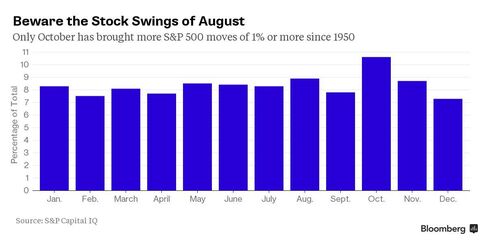 This week's lack of direction in U.S. stock trading may be deceiving if history is any guide, according to Sam Stovall, a strategist at S&P Capital IQ.
As the attached chart shows, August has brought more daily swings of 1 percent or more in the Standard & Poor's 500 Index than all but one other month since 1950, according to data that Stovall cited three days ago in a report. The exception is October, the month in which stocks crashed in 1987.
August's first two days of trading brought S&P 500 losses of 0.3 percent and 0.2 percent, followed by a 0.3 percent gain yesterday. In the first seven months of the year, the index's moves crossed the 1 percent threshold 33 times on a closing basis, according to data compiled by Bloomberg.
"The market itself may also be telling us that more volatility -- along with a disappointing overall price performance -- lies ahead," Stovall wrote. The ratio of the S&P 500 high beta and low volatility indexes is sending this signal, the New York-based strategist wrote.
The high-beta index fell 10 percent through yesterday from this year's high, set on April 23. The indicator tracks the 100 companies in the S&P 500 that fluctuated the most relative to the index during the past 12 months. The low-volatility index, comprised of 100 stocks that swung the least, rose 1.3 percent during the same period.
"Investors have been in a 'risk-off' mindset," Stovall wrote. "In the month ahead, investors may therefore be more inclined to focus on their tans than on their portfolios."
Before it's here, it's on the Bloomberg Terminal.
LEARN MORE