'Boring' Zurich Makes Investors Impatient as Senn Eyes RSA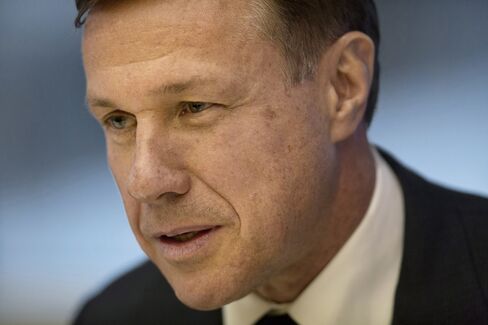 Martin Senn, Zurich Insurance Group AG's chief executive officer, is considering a bid for RSA Insurance Group Plc, one of the U.K.'s biggest insurers, after a cost-cutting program failed to revive returns for shareholders.
Investors including GAM Holding AG are cautious about the possible deal but are growing frustrated with Senn's strategy even after he awarded them record annual dividends of 17 Swiss francs ($17.30) a share since becoming CEO in 2010. While the payout, yielding 5.7 percent this year, is the highest in the Swiss Market Index, gains for the shares have lagged behind rivals as the former Credit Suisse banker has been unable to bring profit back to pre-financial crisis levels.
"Dividend stories have a danger to be rather boring, profit doesn't grow much, they don't have much new to say," said Daniel Hauselmann, who helps manage 123.3 billion Swiss francs at GAM Holding, including Zurich shares. "That creates a certain pressure. Just paying a high dividend is not ambitious enough for me, but the past has shown in the insurance sector that not all mergers deliver much value either."
Zurich Insurance said last week it is considering an offer for RSA, Britain's second-largest non-life insurer with a market value of 5.2 billion pounds ($8.1 billion). Senn, 58, reiterated in May that he had $3 billion in cash to spend. RSA could fetch 5.7 billion pounds, according to Panmure Gordon analysts.
The Swiss firm, advised by Morgan Stanley, is seeking more than $4 billion of financing for the possible deal, two people familiar with the discussions said on July 31. It's not clear whether an offer for RSA will be made, Senn said this week.
Pressure Increases
Financial results published Thursday have upped the pressure on Senn to revive earnings, as second-quarter profit unexpectedly dropped to $840 million.
Profit from general insurance slumped 43 percent and Zurich's core operating ratio, a key measure of profitability, worsened to 100 percent from 95.6 percent after claims from corporate clients in North America surged. A figure above 100 percent means an insurer is making an underwriting loss.
"These results don't position Zurich well for its potential bid," Societe Generale analysts led by Nick Holmes said. "Zurich may be best advised to show it can get its own house in better order before it tries to sort out its neighbors."
The shares have trailed those of rivals since Senn became CEO. They've increased 26 percent since 2010, less than half the 74 percent return for its main competitor, Swiss Life Holding AG, and an 86 percent gain for the 35-member Bloomberg Europe 500 Insurance Index. Profit fell to 3.9 billion francs in 2014, barely above the yearly average of 3.81 billion francs in the preceding five years.
Senn's biggest acquisition as CEO so far was the 51 percent stake he bought in Banco Santander SA's insurance division in 2011 for $1.67 billion.
"Zurich fulfills the function of a rather defensive insurance stock," said Simon Wyss, who helps manage about 260 million francs in Swiss shares, including Zurich stocks, at Privatbank von Graffenried AG in Bern, Switzerland. "And with this takeover that won't be the case anymore. It'll definitely be a challenge for Senn."
Tumultuous Times
Zurich would be purchasing a company coming out of one of its most tumultuous periods since the merger that created it in 1996. Three profit warnings and an accounting scandal cost former CEO Simon Lee his job in 2013 and his replacement, Stephen Hester, the former CEO of Royal Bank of Scotland Group Plc, is cutting costs and disposing of assets to shore up the balance sheet. The company returned to profit last year and it said on Thursday profit climbed 84 percent in the first half.
Senn joined Zurich in 2006 as chief investment officer. He previously worked as CIO at Swiss Life AG and for Credit Suisse as treasurer and chairman of the Japan unit.
A takeover of RSA, which sells coverage including home and car insurance, would be the biggest acquisition of a U.K. insurer since Aviva Plc completed its 5.4 billion-pound purchase of Friends Life Group Ltd. in April.
Purchasing the company would be "a turnaround or even restructuring story," said Wyss.
"It all depends on how well management can convince investors," he said. "Management will have to make their own calculations and will have to explain those to shareholders. That's when we'll be able to judge if this makes sense or not."
Before it's here, it's on the Bloomberg Terminal.
LEARN MORE