Baxter International Is Dan Loeb's Newest Activist Target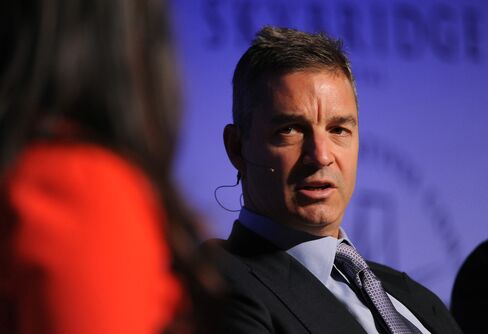 Baxter International Inc. is being targeted by activist investor Dan Loeb's Third Point, which is seeking two board seats and a say in the hunt for a new leader at the medical-supplies company.
Third Point went public with its bid for changes at Baxter on Wednesday, disclosing a stake of almost 10 percent in the $23 billion company, including stock and options. Third Point sees Baxter as undervalued given its strong global franchise and opportunities to boost profit margins, said a person with knowledge of the matter.
After spinning off its drug business last month to create Baxalta Inc., Baxter is at a turning point. Chief Executive Officer Robert Parkinson, 64, told investors last week that the company's board had hired a search firm to find his replacement, given his age and 11-year tenure at the company. And now that the spinoff is complete, Baxter is in better position to look at more deals, he said.
Baxter makes hospital supplies, such as infusion pumps and surgical tools, and dialysis systems for kidney disease. While Baxter shares have risen 11 percent since the spinoff, it has still underperformed competitors, gaining 15 percent a year over the past five years, compared with 23 percent for other medical-supplies providers.
Its operating profit margin of 14 percent over the past four quarters compares with 18 percent for Becton Dickinson & Co. and 25 percent for CR Bard Inc., though each competitor has a different mix of products, making it difficult to compare.
Cost Cuts
Particularly post-spinoff, the company has lots of opportunities to get more efficient, cut costs and expand sales to boost earnings, said the person with knowledge of the matter, who asked not to be identified because the discussions between Baxter and Third Point are private.
The activist fund met with Baxter officials at the company's Deerfield, Illinois, headquarters on July 30, and again with lead director Tom Stallkamp at Third Point's New York office Tuesday, the person said. Third Point was critical of the current board's stock ownership, which it estimated at less than 200,000 shares, the person said.
The recent gains in the stock have perplexed Joanne Wuensch, an analyst at BMO Capital Markets Corp.
"Quite honestly, with Baxter I'm scratching my head," said the analyst, who has the equivalent of a hold rating on the stock. "I think what is being priced in at this stage is more operating leverage than their guidance would indicate, a new CEO that would provide better productivity and the access to Third Point brain power."
Willing Partner
In a letter to Baxter released publicly Wednesday, Third Point said that in addition to the board seats and a role in the CEO search, the activist investor seeks changes to corporate governance. Billionaire Loeb praised Baxter's "willingness to consider new directors."
Loeb, whose firm has almost a 10 percent stake including amassed options it's converting into stock, applauded the company for spinning off Baxalta and for announcing a succession plan for Parkinson. Third Point, which oversees about $18 billion, said it has more than $2 billion in economic exposure to Baxter.
"We look forward to bringing our experience to the board and helping to select a new CEO," Loeb wrote. "We believe there are several external candidates with the requisite industry experience, leadership skills, and track record of creating shareholder value who could ably take the reins at Baxter."
Baxter should consider former Covidien Plc CEO Joe Almeida to replace Parkinson, Bank of America Corp. analyst Bob Hopkins said last week in a note.
Constructive Talks
Baxter expects to maintain constructive talks with Third Point and plans to keep listening to all shareholders, the company said in a statement.
Loeb described the structure of Baxter's board as "shareholder-unfriendly and archaic" because its staggered terms for directors mean only a few are up for re-election each year. He also criticized Baxter's "odd voting structure that values shareholders individually rather than according to economic interest." The rare structure implies small shareholders have the same voting clout as the largest investors, such as Third Point.
"We believe most shareholders agree with our views and as it turns out, so do you," he said, referring to talks with the company.
Baxalta has rejected an unsolicited offer from Shire Plc to acquire the company for $30 billion in stock. Baxter maintains a 19.5 percent stake in Baxalta, which the company has said could help fund its pension, pay down debt and repurchase shares.
Earlier Targets
While most of Third Point's investments aren't based on an activist strategy -- where the fund seeks to force management and boards to make changes that boost shareholder returns -- it's those campaigns that attract the most attention.
Loeb's firm has actively targeted at least two other health-care companies previously -- biotech giant Amgen Inc. and cancer drugmaker Ligand Pharmaceuticals Inc. It has run campaigns for changes at companies as diverse as Dow Chemical Co., Sony Corp., CF Industries Holdings Inc. and Yahoo! Inc.
When Third Point takes an activist position, the firm often seeks directorships alongside influence in CEO selection. Loeb noted in Wednesday's letter that "we have been deeply involved in the hiring" of executives including Ligand's John Higgins, Yahoo's Marissa Mayer and Sotheby's Tad Smith.
Before it's here, it's on the Bloomberg Terminal.
LEARN MORE