Standard Chartered CEO Cuts Dividend, Buys Time on Capital Call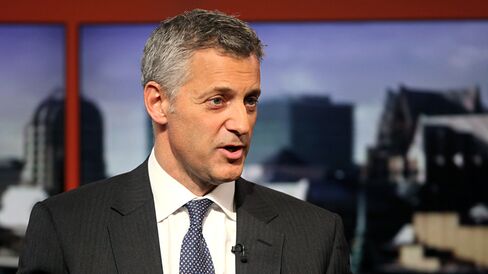 Standard Chartered Plc Chief Executive Officer Bill Winters cut the dividend by half and signaled the bank won't need to raise capital immediately as he grapples with dwindling profit. The shares rose.
The interim dividend was reduced to 14.4 cents per share as adjusted pretax profit fell 44 percent to $1.8 billion from a year earlier, the London-based bank said in a statement. The annual payout may be cut by a similar extent, which could save the lender about $1 billion, Finance Director Andy Halford said.
Winters, 53, took over from Peter Sands after two years of declining earnings and a slump in shares. With a rout in commodity prices pushing up bad loans in India and China and rising compliance costs weighing on earnings, some analysts had forecast a capital gap of as much as $10 billion. The CEO said Wednesday the bank probably won't raise capital this year.
"The capital call never came," Chirantan Barua, a London-based analyst at Sanford C. Bernstein with an outperform ont the stock, said in a note to clients. Cutting the dividend "is a great move and minimizes the probability of a capital raise north of $5 billion in the months to come."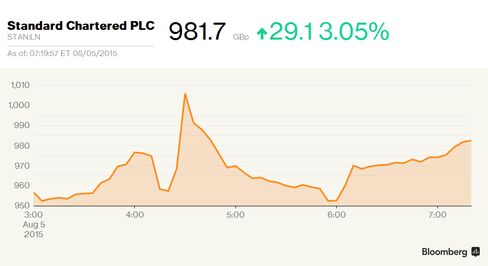 The shares rose 3.2 percent to 982.8 pence at 12:19 p.m. in London. They swung between gains and losses in earlier trading, gaining as much as 6.5 percent, the most since June 10.
'Fixable Challenges'
Winters, a former co-head of JPMorgan Chase & Co.'s investment bank, said the lender has "some very real challenges, but they are fixable," adding he is "happy" to have taken the job despite the scale of the task ahead.
"If we decide we need capital for the long-term benefit of the group, we will raise capital," he said in the statement. "If we decide we don't need it, we won't."
The bank will decide whether to tap investors after the Bank of England publishes the results of its annual stress test in December, Winters said on a call with reporters. The second round of tests this year will enhance scrutiny of firms' developing markets and commodities exposure.
"There has been a significant improvement in capital," said Gary Greenwood, an analyst at Shore Capital in Liverpool, England. "This significantly reduces the possibility of a capital raise, in our view, and we think this is the key factor behind the positive share price reaction to, what on the face of it, looks like a poor set of results."
Profitability Target
The bank's return on equity, a measure of profitability, fell to 5.4 percent at the end of June from 10.4 percent a year earlier. The common equity Tier 1 capital ratio, a measure of financial strength, gained 80 basis points to 11.5 percent from the end of December. That puts the lender within its target range of between 11 percent and 12 percent this year.
"Clearly, 5 percent is not an adequate return, and even 10 percent will be marginal to many investors," Winters said, referring to the bank's return on equity. "The board and I consider this to be the minimum acceptable level which we should deliver as soon as possible."
First-half operating income fell 8 percent to $8.5 billion, missing the $8.8 billion average estimate of eight analysts surveyed by Bloomberg. Total impairments jumped 70 percent to $1.7 billion driven by "adverse trends" in India, where losses on loans to corporate, institutional and commercial clients rose $369 million. Total impairments surpassed the $1.1 billion estimate of analysts at Barclays Plc.
'Tidying Up'
"A lot of the earnings miss appears to be 'kitchen sinking' by the new CEO," Citigroup Inc. analysts Ronit Ghose and Andrew Coombs said in a note. "For example, higher non-performing loan recognition and more conservative" valuations of its assets, they said.
In South Korea, the bank made a $16 million profit in the first half compared with a $126 million loss in the year-earlier period. Loan impairments for retail clients fell $94 million and the bank exited its consumer finance business in the country after an ill-fated expansion.
At HSBC Holdings Plc, which also generates most of its earnings in Asia, first-half pretax profit rose 10 percent to $13.6 billion, beating analyst estimates.
Today was "very similar to HSBC, they're cutting away some of the layers built up over the years, tidying up as required and taking some hits," said Hugh Young, a Singapore-based managing director at Aberdeen Asset Management Plc, which is the bank's second-largest shareholder. Winters has "a simpler job in many ways than HSBC."
Cost Cuts
Standard Chartered said it's on track to cut costs by more than $400 million this year as part of plans laid out by Sands to save about $1.8 billion through 2017. The bank has cut 4,000 jobs so far this year, about 5 percent of headcount, Halford said.
In the first half, regulatory costs jumped 60 percent to $453 million, partly as the bank increased the number of employees working to meet rules and combat wrongdoing.
All four of the lender's divisions reported a drop in revenue in the first half, led by a 19 percent slump in the commercial clients business. Corporate and institutional clients, the largest division, had a decrease of 10 percent.
Standard Chartered has also been hurt by slowing Asian economies and a slump in Chinese equities. The Bloomberg Commodity Index dropped to the lowest since 2002 in July.
Winters said the bank cut its commodities exposure by 11 percent to $49 billion in the first half. That's down from $62 billion at the end of 2013.
"We are watchful of China, there are ups and downs and obviously the stock exchange has been moving around a lot recently," Halford said. "In the medium term, there is a growth opportunity there but obviously we need to be very thoughtful about it and make sure we have limited exposures."
Before it's here, it's on the Bloomberg Terminal.
LEARN MORE