SocGen Soars on Higher Capital Goal as Trading Bolsters Profit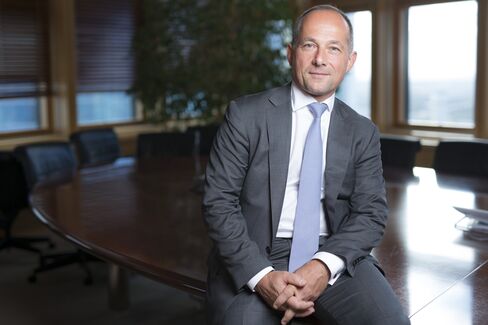 Societe Generale SA gained the most in two years after the bank reported the highest profit since the financial crisis, bolstered by equity trading revenue, and raised its capital targets.
Net income rose 25 percent to 1.35 billion euros ($1.47 billion) in the second quarter, the Paris-based company said Wednesday. Quarterly earnings were the highest in eight years and beat analyst estimates. Societe Generale raised both its core capital and leverage targets.
France's second-largest bank by market value is benefiting from gains in stocks and the region's economic recovery, fueled by an unprecedented stimulus by the European Central Bank. Rising regulatory expenses and the need to invest more in digital technology prompted the firm to lower costs by an additional 850 million euros by 2017, the bank said.
"This goes in the right direction, we're in a world where banks need capital levels higher than in the past," said Karim Bertoni, who helps manage more than $6 billion at Bellevue Asset Management. "But when you keep more capital, it's more difficult to deliver on profitability and this explains cost cuts."
The bank's shares rose as much as 9.2 percent, the most in two years, to 48.77 euros and were 8 percent higher as of 11:35 a.m in Paris trading.
Capital Target
Societe Generale's equities trading revenue jumped to 799 million euros in the quarter from 496 million euros a year earlier. Corporate financing and advisory revenue rose about 26 percent to 685 million euros, while fixed-income sales fell 15 percent.
"We have a well positioned, well suited corporate and investment banking business model which is delivering a very strong and sustainable profitability so we don't need like maybe some other European players to refocus," Chief Executive Officer Frederic Oudea said in an interview with Bloomberg Television.
Cost reductions will be implemented across the firm, while it's "premature" to comment on whether jobs will be cut, Oudea said. Societe Generale achieved almost all of its previous 900 million-euro cost cutting plan between 2013 and 2015.
The bank's common equity Tier 1 ratio, a key measure of financial strength, rose to 10.4 percent at the end of June from 10.1 percent on March 31. The company raised its target to 11 percent by the end of 2016 from at least 10 percent.
Russia Outlook
"The new capital guidance is particularly good," said Alain Tchibozo, an analyst at Mediobanca SpA, who rates the stock outperform. The new core capital target will probably allow Societe Generale to increase its dividend payouts, he said.
Societe Generale sees a 20 basis-point boost to its capital ratio from selling its holding in asset manager Amundi in an initial public offering this year, the bank said in June.
Its French consumer-banking network had 419 million euros in second-quarter profit, up from 348 million euros a year earlier, the bank said.
Societe Generale set aside 200 million euros in legal provisions in the quarter, bringing its total to 1.3 billion euros. The quarter's profit was boosted by a 312 million-euro gain related to the revaluation of the bank's own debt.
Profit from international retail banking fell 6.6 percent to 312 million euros, hurt by a 45 million-euro loss in Russia, Societe Generale's second-largest market by staff. Despite a contraction of the Russian economy, Societe Generale's local unit halved its loss from the first quarter and cut 1,200 jobs.
SocGen's stock recovery has suffered a "delay compared with the return of confidence in the euro zone, partly because of Russia," said Romain Burnand, who helps manage 3 billion euros at Moneta Asset Management in Paris and owns shares in Societe Generale. Russia "remains an issue, but it must be considered relatively to the other activities."
(An earlier version of this story corrected the share price.)
Before it's here, it's on the Bloomberg Terminal.
LEARN MORE