Aurobindo's 119% Rise Among World's Best on U.S. Growth
Aurobindo Pharma Ltd.'s stock surge in the past year is among the highest for the world's drugmakers, as the Indian company weathers a U.S. clampdown on foreign manufacturers of generics and wins more product approvals.
The 119 percent gain is the third-best in the Bloomberg Asia Pacific Pharmaceuticals Index of leading regional stocks, and puts the company in fourth spot in the global variant.
U.S. Food and Drug Administration approvals for Aurobindo reached a two-year high last quarter, even as the FDA's scrutiny of overseas drugmakers made clearances harder in the world's top pharmaceutical market. The agency's data show subdued approvals for India's two largest generic drugmakers, Sun Pharmaceutical Industries Ltd. and Dr. Reddy's Laboratories Ltd.
"The U.S. business is a key growth driver for Aurobindo," said Surya Patra, an analyst at PhillipCapital India Pvt. in Mumbai. "The pipeline they have created -- a large basket of injectable drugs -- will support their growth momentum in the U.S."
Aurobindo closed 3.4 percent higher at 789.75 rupees in Mumbai on Thursday, exceeding the 0.3 percent advance in the benchmark S&P BSE Sensex index.
The stock trades at about 21 times projected 12-month earnings -- more than the S&P BSE Sensex's 16 times but less than S&P BSE Healthcare index's 27 times. The company is India's fourth-largest drugmaker after Sun, Dr. Reddy's and Lupin Ltd. based on revenues.
CHART 1: Aurobindo has surged 119 percent in the past 12 months, exceeding Dr. Reddy's 55 percent climb, Lupin's 46 percent rise and Sun's 11 percent advance.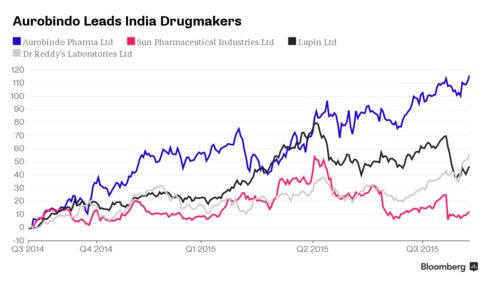 CHART 2: FDA approvals for billionaire Dilip Shanghvi's Sun slowed as the agency raised concerns about manufacturing at some sites. Clearances at Lupin and Aurobindo rose last quarter.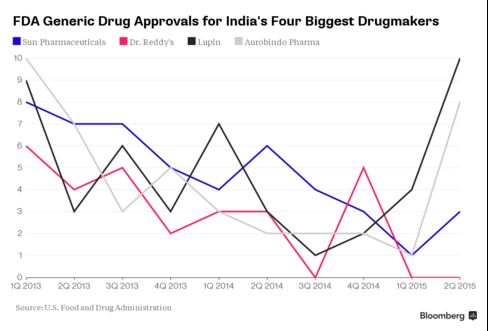 CHART 3: Listed Indian companies accounted for about 22 percent of global generic drug revenues of $84 billion in 2014, data compiled by Bloomberg Intelligence shows.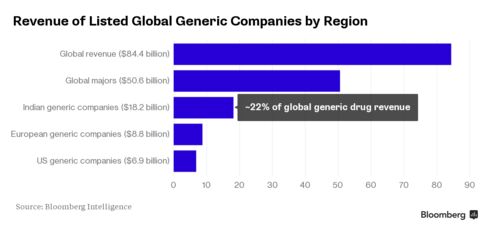 CHART 4: U.S. FDA inspections of India's drugmakers increased in the past decade. Data integrity and quality testing flaws prompted import bans on some of them.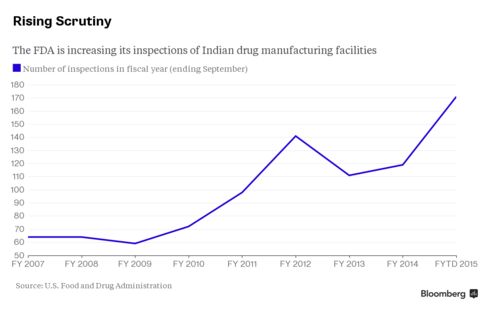 Before it's here, it's on the Bloomberg Terminal.
LEARN MORE