Sept. 11 Defendants in Limbo Thwart Obama's Guantanamo Ambitions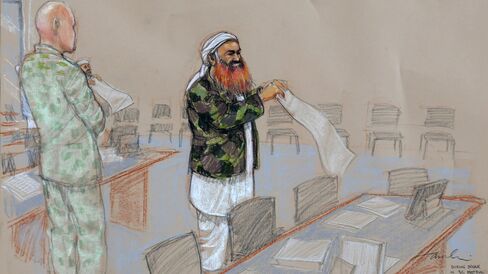 Almost 14 years after the Sept. 11 attacks, their self-described mastermind, Khalid Sheikh Mohammed, is still awaiting trial, and the families of the victims are still awaiting justice.
Now, President Barack Obama is renewing his effort to close the U.S. military prison at Guantanamo Bay in Cuba, and Mohammed may prove the biggest obstacle.
While criticism in Congress has centered on the prospect that prisoners released to other countries may return to their suspected terrorist ways, there's no exporting Mohammed. Efforts to prosecute the al-Qaeda strategist and four codefendants accused of plotting the attacks that killed almost 3,000 people remain entangled in procedural disputes at Guantanamo.
"You might end up with Guantanamo being the Caribbean equivalent of the Spandau prison" in Berlin that was kept open for decades for a handful of Nazi war criminals after World War II, said Eugene R. Fidell, who teaches military law at Yale Law School.
Obama has sought since he took office in 2009 to close Guantanamo as a symbol of U.S. abuses in the war against terrorism. As they prepare to send a new proposal to Congress as soon as this week, administration officials say about 64 of the 116 remaining prisoners -- those deemed too dangerous to release abroad -- would be transferred to the U.S. for prosecution or continued military detention.
Congressional Opposition
Congress, however, has repeatedly barred bringing Guantanamo prisoners to the U.S. for military or civilian trials, and proposals to transfer Mohammed and the others facing potential death sentences for their alleged roles in the Sept. 11 attacks would create a political uproar.
A 2009 effort to transfer their case from the military justice system to federal court in New York fizzled after vehement opposition from Congress and New York City officials worried about security. A proposal to buy a prison in Illinois to house Guantanamo detainees produced a furor in that state, and the administration promised not to pursue it.
So, as Mohammed and the others remain mired in a legal quagmire at Guantanamo that's all but certain to extend beyond Obama's time in office, the victims' families still wait.
"I'm 83 and I've seen a lot," said Rita Lasar, whose brother, Abraham Zelmanowitz, died in the North Tower of the World Trade Center. "I don't see how they keep on going year after year with nothing happening. I feel like it's going down Alice's rabbit hole."
'Farce, Failure'
"The military commissions process is a farce and a failure," said Victor Hansen, a former Army JAG Corps officer and military prosecutor who now teaches criminal law at New England Law/Boston.
Citing the frustrations endured by relatives of those who died in the Sept. 11 attacks, Hansen said, "If the goal is to bring justice to these families, how can you say this process has been successful?"
Preliminary hearings have been held about once every two months for a week at a time, and even those sessions are frequently postponed. Proceedings were disrupted when defense lawyers said their documents went missing from a government computer, and again when they discovered that meeting rooms they used to consult with their clients had microphones in the ceiling disguised as smoke detectors.
In the latest setback, the Navy has begun investigating a complaint that lawyers working in court facilities on the base have been diagnosed with cancer.
Waterboarded 183 Times
Underlying the tensions is the legacy of the harsh measures used in the war on terror.
Army Colonel James Pohl, the military judge overseeing the case, granted a government request to limit the disclosure of classified information about "sources, methods and activities" used to fight terrorism.
Defense lawyers say that will muzzle their clients from testifying about their own experiences in custody. The CIA has acknowledged that Mohammed was waterboarded 183 times, according to government documents. The procedure that simulates drowning is widely considered a form of torture and was banned by Obama in January 2009.
In February, the judge abruptly recessed the first hearing in six months after some of the alleged Sept. 11 conspirators said they recognized a court linguist as a worker at a former CIA secret prison.
"The problem is I cannot trust him because he was working at the black site with the CIA, and we know him from there," defendant Ramzi bin al Shibh, who's accused of being a "key facilitator for the September 11 attacks," told the court.
'Enormous Frustration'
While Senator John McCain, a supporter of closing Guantanamo, defended the use of military tribunals for accused war criminals, he said the process "is a source of enormous frustration" that needs to be reviewed.
"Even a terrorist deserves a trial," McCain, the Arizona Republican who heads the Senate Armed Services Committee, said in an interview.
The frustration is shared in the Pentagon, where an effort to prod Pohl to speed up the case backfired.
In January, Deputy Defense Secretary Robert Work signed an order that would have required Pohl and other military judges to live on the isolated Guantanamo base until their cases were completed instead of commuting occasionally.
A military judge overruled the order as an effort to exert "unlawful influence" over cases moving toward trial.
Changing of the Guard
Retired Marine Major General Vaughn Ary, who had recommended the order issued by Work, stepped down as the "convening authority" overseeing military tribunals at Guantanamo.
Paul Oostburg Sanz, the Navy's general counsel who replaced Ary, declined to answer questions about the military tribunal process because it concerns "matters pertaining to active litigation," according to Henrietta Levin, a Pentagon spokeswoman who handles Guantanamo issues. Pohl, the judge in the Sept. 11 case, also has declined all interview requests, according to Levin.
"We couldn't have screwed up the trial of these guys any more if we tried," said Colby Vokey, a military attorney and retired Marine lieutenant colonel who represented a Canadian teenager who was held at Guantanamo on murder and terrorism charges. The defendant pleaded guilty to war crimes and was sent to Canada, where he was later released.
"For people looking for justice, I don't think they'll see it unless we try these cases in federal court," Vokey said.
Fidell, the Yale legal scholar, agreed that the only viable solution is for Congress to allow the case to be tried in a U.S. federal district court.
While World War II military tribunals were hardly perfect, he said, "Expectations of fairness and what a criminal trial is supposed to look like have evolved dramatically since 1942. They had to invent a body of law, and it doesn't work."
Before it's here, it's on the Bloomberg Terminal.
LEARN MORE