Russia Set for First Price Dip in 4 Years as Rate Cuts Loom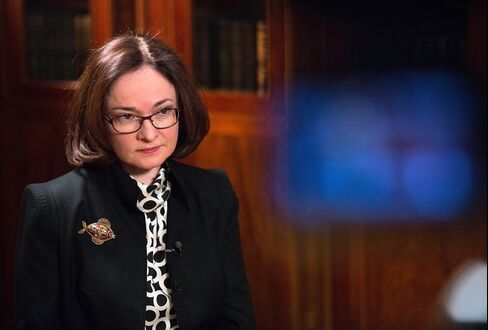 Elvira Nabiullina may be witness to falling prices in Russia for the first time since she was then-Premier Vladimir Putin's economy minister.
Now at the helm of the central bank, Nabiullina faces an easier path to rolling back what's left of December's emergency interest-rate increase if the country has its first monthly price drop since 2011 following two weeks of zero inflation. Goldman Sachs Group Inc. says prices probably fell in the last days of July, with Bank of America forecasting a further decline as a result of a "strong" harvest.
That's freeing the central bank to keep its seven-month easing cycle intact and tune out the impact of ruble depreciation. With the recession-hit country choked by lower oil prices and sanctions over Ukraine, policy makers can zero in on the economy after dropping their commitment to more monetary easing last month.
"The central bank can continue cutting rates as weekly inflation remains at zero, or even with deflation in August and the start of September, against the background of no obvious improvement in economic growth," said Dmitry Polevoy, chief Russia economist at ING Bank Eurasia AO in Moscow.
Forward-rate agreements are signaling 21 basis points of increases in borrowing costs during the next three months, compared with as many as 45 basis points of cuts seen in July. The Bank of Russia has already lowered borrowing costs by a cumulative six percentage points to 11 percent in five steps this year. The key rate will end the year at 9.5 percent, according to the median of 26 estimates in a Bloomberg survey.
'Slash Rates'
"We might see deflation in August," Sberbank CIB economists led by Evgeny Gavrilenkov said in an e-mailed report. "Should this scenario play out, the central bank would be able to slash rates more aggressively at its next meeting on Sept. 11."
Annual inflation, which the central bank estimated at 15.8 percent on July 27, reached 15.6 percent at the end of last month, below the median forecast of economists. Price growth will slow to 10.8 percent by year-end, according to the Bank of Russia.
The outlook for inflation may be improving even as the ruble has depreciated about 21 percent against the dollar in the past three months, the worst performance globally that's erased most of its gains earlier in the year. It traded 1.3 percent weaker at 64.3040 to the dollar as of 6:27 p.m. in Moscow.
Ruble Outlook
The currency has been buffeted by dropping prices on the nation's energy exports and its slide has forced policy makers to abandon foreign-exchange purchases to rebuild reserves last month.
The ruble's three-month implied volatility is more than 21 percent, the highest globally, according to data compiled by Bloomberg. While the recent exchange-rate swings may contribute as much as 1.1 percentage point to inflation, "the pressure is likely to be significantly less," VTB Capital said in a report on Wednesday.
The biggest driver of disinflation may be Russia's worsening economic slump, which last quarter deepened to an estimated 4.4 percent from a year earlier after a 2.2 percent drop in the first three months. "Slack domestic demand" will continue to curtail inflation, the central bank said in a statement following its rate cut July 31.
"We expect disinflation to gain pace in August, as the weekly prints remain contained," VTB Capital analysts Alexander Isakov and Petr Grishin in Moscow said in a report. "The regulator is likely to monitor inflation trends closely in the run-up to the September meeting for the effects of the recent ruble weakness and to see whether or not inflation expectations are stabilizing."
Before it's here, it's on the Bloomberg Terminal.
LEARN MORE