Polish Opposition Taps Duda as Campaign Enters Final Stretch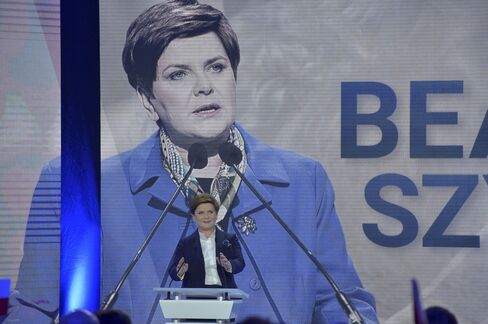 Andrzej Duda isn't basking in the afterglow of Poland's biggest political upset in at least a decade.
The president, who was sworn in on Thursday, is hitting the road again as the country heads into a parliamentary ballot on Oct. 25. Two months after a surprise win in a presidential vote, the opposition Law & Justice party is counting on him to convert an opinion-poll lead into its first victory in a general election since 2005 and help Beata Szydlo, Duda's former campaign manager, become prime minister.
A political unknown only months ago, the 43-year-old lawyer has emerged as his party's standard-bearer after criss-crossing the country to woo those left behind by the European Union's fastest growth since the global financial crisis. While Szydlo has toured Poland in the same bus used by Duda in his campaign, she's struggling to gain traction with voters even as her party takes a commanding lead in opinion polls.
"They're only halfway through, and the battle is still on," Kazimierz Kik, a political scientist at Jan Kochanowski University in Kielce, said by phone. "Duda can't fulfill his promises without Law & Justice getting into government. The president and the party -- they need one another."
Campaign Promises
At stake in the election, which pits two female candidates for the first time in Europe in more than two decades, are opposition promises that the Finance Ministry estimates may cost Poland more than 400 billion zloty ($104 billion) in the next five years and saddle banks and retailers with new taxes. Duda's pledges, which also include proposals to lower the retirement age and raise benefits for families, can become reality if Law & Justice wrests control of parliament and unseats Prime Minister Ewa Kopacz.
Along the way, Duda is stretching Poland's tradition of the apolitical presidency by aligning closely with Law & Justice. He'll have to walk a fine line when expressing support for his former party as Poles expect their presidents to remain neutral in the face of political conflict, according to Olgierd Annusewicz, a political scientist at Warsaw University.
After being sworn in, Duda told parliament that he'll "do his utmost" to stick to pre-election promises to cut the retirement age and increase tax-free allowances. That's part of an agenda that the opposition is promising to introduce once it gets into power.
"I'm headstrong," he said before the joint houses of parliament. "I believe that it's possible and I'll do it."
Presidential Powers
As president, Duda will be able to veto legislation and act as commander-in-chief of the armed forces with a say in foreign policy. This policy requires "correction, not revolution" and should be more "active" in standing up for Polish interests within the European Union, he said.
Duda will also choose the next central bank governor after Marek Belka's six-year tenure runs out in June 2016. In an interview with the news service PAP on Wednesday, he declined to say if Belka should stay for another term.
The most recent polls put Law & Justice 10 percentage points ahead of Kopacz's Civic Platform.
"Law & Justice is clearly looking to repeat its success from May," Annusewicz said by phone. "Duda's presence appears necessary in this context as the party's candidate for prime minister doesn't really seem predisposed to deliver. Duda's entry could energize the campaign."
Before it's here, it's on the Bloomberg Terminal.
LEARN MORE