London Braced for Tube Strike Take-Two as Unions Battle Johnson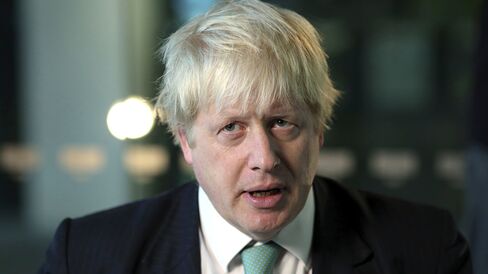 London is braced for its second bout of travel chaos in four weeks, with subway staff set to walk out Wednesday evening as they seek sweetened terms for operating an all-night service proposed by Mayor Boris Johnson.
Members of four Tube unions plan to strike for 24 hours, causing London Underground Ltd. to halt trains from around 6:30 p.m., with the network remaining closed all day Thursday.
Millions of commuters will leave work early to avoid the start of the action and many are expected to stay home for the duration of the walkout after the last strike on July 8 led to packed surface trains, roads choked with cars, scooters and cycles and buses that were too full to stop for new passengers.
"Customers who are able to change their travel time are strongly advised to travel outside peak hours on Wednesday afternoon and Thursday," Transport for London, which oversees the Tube on behalf of Johnson, said in a statement. "All customers are advised to allow more time for their journeys."
The subway is likely to be "exceptionally busy" from 4:30 p.m. and won't return to normal until Friday, TfL said. While extra buses, trams, airport coaches and Thames river boats will run and seven additional hubs will be set up for "Boris Bike" rental cycles, the measures won't be sufficient to prevent serious disruption, it warned, adding: "People are urged to walk for short journeys, where possible," and "to keep journeys by car to a minimum to keep traffic flowing."
Offer Spurned
The strike is set to go ahead after the Unite, Aslef, TSSA and Rail, Maritime and Transport unions rejected London Underground's latest Night Tube contract on Monday.
Johnson wants the service to run Fridays and Saturdays on five lines and is pressing for its introduction on Sept. 12.
New contract proposals dismissed union demands for more staff and a 32-hour, four-day week, but retain a "work-life balance" by guaranteeing no extra hours and at least the same number of weekends off, as well as two days off out of every seven and at least 43 vacation days, London Underground said.
That's on top of a 2 percent pay increase and 500-pound bonus for all staff on Night Tube lines, plus a 2,000-pound payment for train operators who choose to work the new shifts.
"We are urging the unions to call off the strike and put the offer to their members," Chief Operating Officer Steve Griffiths said late Tuesday, adding that the only way to settle the outstanding issues "is by keeping talking."
RMT General Secretary Mick Cash said the Night Tube plan is a "shambles," with posts vital to longer operating hours being axed and weekday commuters set to see services "reduced to chaos" so that "a few thousand revelers can be shipped home in the early hours of Saturday and Sunday." The unions say they're still open to talks about any fresh proposals.
The RMT said separately Wednesday that members at Tube Lines, which helps maintain three subway lines, will be balloted on strike action after receiving a pay offer related to the Night Tube "which mirrors the wholly unacceptable proposals" presented to the wider London Underground workforce.
London's Tube network has 270 stations, with 57,000 people using the busiest, Waterloo, during the three-hour morning peak period. Passengers typically make 3 million daily journeys.
Before it's here, it's on the Bloomberg Terminal.
LEARN MORE