Is Dish Hiding the Good News About Sling TV?
Dish's Internet television business is growing fast, but not as fast as its satellite business is shrinking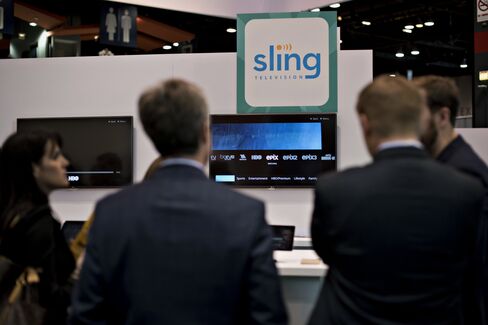 When Dish launched an Internet television service earlier this year, it seemed like a foregone conclusion that some customers would cancel their expensive satellite hookups in favor of this new, cheaper alternative. That shift to Sling TV is probably happening, but Dish isn't making it easy to decipher.
The company's quarterly earnings on Wednesday included a report on how many people have signed up for Sling TV—sort of. Dish decided to include paying Sling customers in its overall subscriber numbers. Since Sling is growing and the satellite business is shrinking, lumping the two services together proves frustrating for anyone trying to determine how either side of the business is doing. The overall numbers aren't good—Dish lost 81,000 customers in the recent quarter, almost double the number from a year ago—but there's no way to untangle the combined tally to detect how many customers are defecting to the lower-cost option.
The company has provided a total tally for Sling in the past: 169,000 subscribers at the end of last quarter. Left with guesswork, analysts project something like 300,000 Sling subscribers by now. That would be a pretty impressive start for an Internet TV service. But that level of growth would also mean that Dish's satellite business is losing far more customers than expected.
Dish Chief Executive Charlie Ergen argues that putting Sling and satellite customers in one pile reflects the company's philosophy that all customers are worth about the same. "You really don't care where you get a video customer," he said in today's earnings call. "We're paying the programmer the same, and we get a Sling customer or we get a Dish customer, and they both have ESPN. We just write the check to ESPN."
But the economics of Internet television are actually quite different from satellite or cable. That's a big reason why customers like Internet television so much. Sling costs $20 a month, far less than the $84 paid by the average Dish customer. As Sling become a bigger proportion of the company's overall consumer base, the average payment will continue to decline. On the other hand, of course, it costs the company less to plug in a Roku box and open the Sling TV app than it does to send a technician to someone's house, climb on the roof, install a satellite dish, go into the living room, and install a set-top box. So the cost of each new customer will also decline.
In other words, Dish's business is changing rapidly. "The inclusion of Sling TV, and therefore the reliance on a huge number of estimates on top of estimates, makes the numbers almost unintelligible," writes industry analyst Craig Moffett in a research note. "This much we do know, however. Dish's OLD business (that boring old business of putting up satellite dishes and watching pretty colors flicker across a big flat thing on your wall) is shrinking, perhaps quite quickly."
Ergen acknowledges that satellite television is shrinking. "We're lucky to have the fallback of Sling," he told investors.
Before it's here, it's on the Bloomberg Terminal.
LEARN MORE