Five Must-Watch Charts for Harper During Canada Re-Election Bid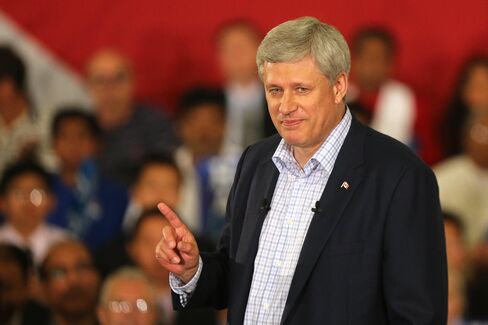 Prime Minister Stephen Harper kicked off Canada's 42nd election campaign on Sunday, leaning heavily on his reputation as a strong economic steward. His rivals, in turn, are assailing his record as the country struggles to recover from an oil shock.
Here are five charts that show what the incumbent Conservative leader is up against.
1. GDP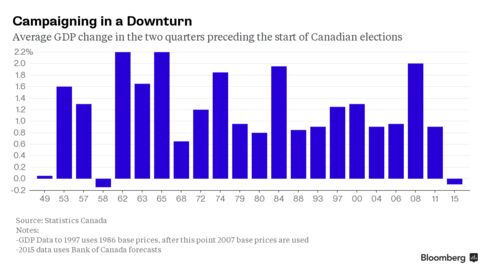 Harper is the first prime minister since the 1950s to seek re-election immediately following a two-quarter contraction in gross domestic product, as is probably the case this year. There's good reason why it rarely happens: prime ministers choose election dates and typically prefer to avoid holding them in the middle of a downturn. This year, Harper opted to abide by his own Oct. 19 fixed election date rather than go early or wait for an upswing.
The Bank of Canada predicts GDP data to be released on Sept. 1 will show a second-quarter contraction. As long as the first-quarter 0.6 percent shrinkage isn't revised, that would mean Canada was in a technical recession, defined as two consecutive quarterly contractions, in the first half of this year.
2. Jobs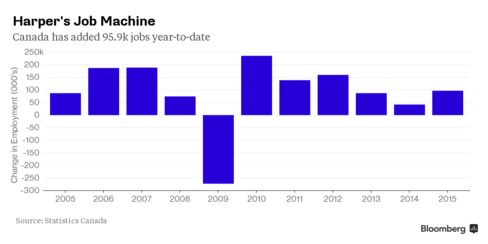 As long as employment is growing, Harper will be able to sidestep questions about whether Canada is in an outright recession. The country has added 95,900 jobs this year through June, and Canada's unemployment rate -- at 6.8 percent -- is hovering at near the lowest since the recession.
Economists forecast that Statistics Canada data, due on Friday, will show a 5,000 increase in jobs in July. Subsequent reports are scheduled for Sept. 4 and Oct. 9.
3. The Loonie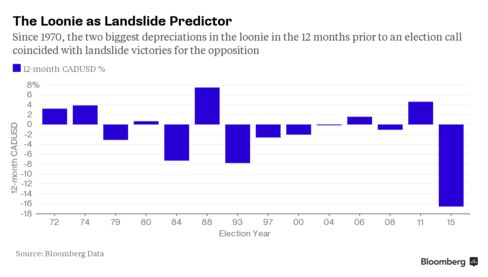 There may be no better indicator of an economy's health than its currency, and the Canadian dollar has fallen 17 percent over the past 12 months. That's the biggest decline before any election campaign since the country stopped fixing its exchange rate in 1970. Historically, large dollar drops don't bode well for sitting prime ministers. Major depreciations also occurred before elections in 1993 and 1984 that saw incumbents Kim Campbell of the Conservatives and John Turner of the Liberals suffer resounding defeats.
The most recent decline reflects falling oil prices and two Bank of Canada rate cuts this year. Trading in overnight index swaps suggests there's about a 20 percent chance the central bank will cut rates at its next rate decision on Sept. 9, the only one before voters go to the polls.
4. Trade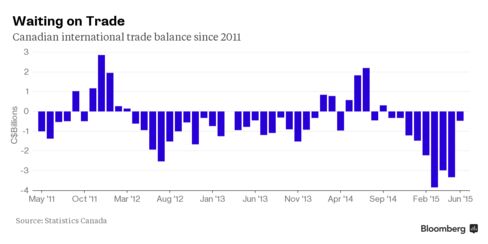 Policy makers are pinning their hopes on exports to lead the economy out of its slump. Data released Wednesday showing exports surged 6.3 percent in June, the most since December 2006, will offer some encouragement.
Exports are still down 1 percent on the year. Harper says the slump is temporary, and the economy will soon recover. For that to happen, non-energy exporters must pick up even more of the slack.
5. Oil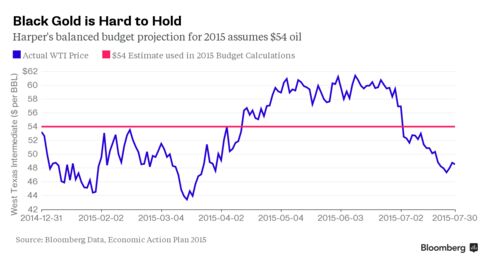 The most important number for Harper may be the price of oil, the country's biggest export. Any further declines, like some have forecast, will make it difficult for voters to believe Harper's promise that better economic times lie ahead.
It would also undermine the credibility of his signature pledge to balance the budget. Prices for West Texas Intermediate fell 21 percent last month to below $47 a barrel, less than the $54 a barrel the government used for its latest budget calculations.
Two monthly budget updates -- the Finance Department's fiscal monitor -- are likely to hit during the campaign, at the end of August and September.
—With assistance from Greg Quinn in Ottawa.
Before it's here, it's on the Bloomberg Terminal.
LEARN MORE