Evergrande Bonds Recover After It Says Leverage Leads to Growth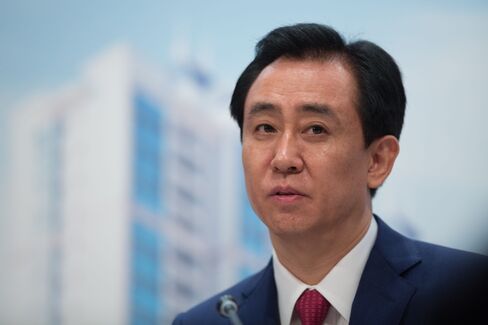 Dollar bonds of Evergrande Real Estate Group Ltd., the Chinese developer majority-owned by billionaire chairman Hui Ka Yan, recovered following an early sell-off after the company rebuffed a report highlighting its leverage.
Evergrande's 8.75 percent dollar bonds due 2018 were down 0.8 cents on the dollar at 94.8 cents at 12:49 in Singapore, after having dropped 1.4 cents earlier in the day, according to prices compiled by Bloomberg. The recovery came after Jimmy Fong, company secretary, said there was nothing new in a report by independent research firm Discount Investing.
"There was some selling earlier today in Evergrande bonds but the price only weakened slightly," said Zhi Wei Feng, a credit analyst at Standard Chartered Plc in Singapore. "Investors mostly agree with the company that there is nothing much new in the latest report."
Discount Investing published a report on its website on Monday highlighting Evergrande's increased indebtedness, noting it has a small short position in its shares. Investing website Seeking Alpha picked up the report Tuesday.
"I won't deny we have leveraged up to grow, but some of Hong Kong's biggest property companies now were very leveraged a few years ago when they were expanding," Evergrande's Fong said by phone. "It's just a pessimistic short-seller report. They can publish whatever they want, but it's just his interpretation of our accounts."
Standard & Poor's downgraded Evergrande's credit rating to B+ on May 6, saying the developer's leverage had deteriorated more than expected and is likely to remain high for the next year.
"It is an ideal time to attack the company because it is in the blackout period," said Standard Chartered's Feng. "Its results will come out later in the month so we should all know soon how the company is doing."
Before it's here, it's on the Bloomberg Terminal.
LEARN MORE