Star Wars Battlefront: A New Hope for the Gaming Industry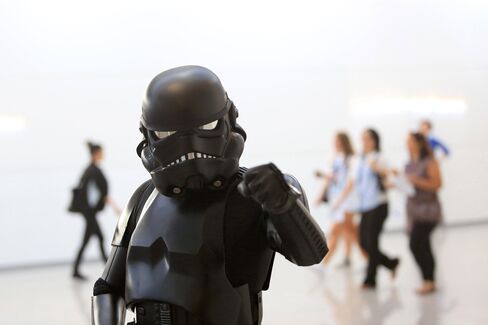 Sony Corp., Electronic Arts Inc. and Microsoft Corp. predict the releases of potential blockbusters such as Star Wars Battlefront, Halo 5 and FIFA 2016 will fuel holiday sales of games and consoles.
The companies are among the hardware and software makers that sounded positive notes at Europe's largest gaming conference held this week in Cologne, Germany.
EA's Star Wars Battlefront game pitches Rebel Alliance soldiers against Imperial Stormtroopers and is on track to be released in the U.S. starting Nov. 17. Sales will receive a boost from theater release of the seventh Star Wars film, called "The Force Awakens," in December, according to EA Chief Operating Officer Peter Moore.
"It's a game that Mom and Dad understand -- and Dad secretly wants to play along with," Moore said at the Gamescom conference, as two gamers played behind him on a split screen. "And then there's a little movie coming out in December to support the whole thing."
EA, based in Redwood City, California, expects the number of installed consoles to reach 49 million by the end of the year. That compares with about 47 million today, with Sony leading the market at more than 20 million units of its PlayStation 4, ahead of rival platforms from Microsoft and Nintendo Co.
Gaming Difference
While it may take time for console makers to generate meaningful sales in China after a sales ban was lifted this year, they are focusing on consumers in the U.S. and Europe. Gaming revenue globally will increase 5.7 percent annually on average between this year and 2019, when sales may reach about $93 billion, according to PricewaterhouseCoopers.
Developers are betting that Gamescom, with big screens and hundreds of gaming stations, can make an impression on first-time visitors like Leon Dean, a 16-year-old student from western Germany. Leon tried out Star Wars Battlefront at the game's booth, where dozens of screens stood next to a large Tie Fighter model.
"I think I'll preorder Battlefront, it was really cool," he said, standing near the stage where Halo's fifth installment was advertised. "Star Wars, just like Halo, is a classic, and you got to have it."
Sony predicts its PlayStation will gain market share this year as it grows in countries including Germany, said Uwe Bassendowski, head of Sony for Germany, Austria and Switzerland. "We expect growth in the business this calendar year in many markets. We expect to improve our position in terms of market share."
https://www.youtube.com/watch?v=QlErxrZcuZw
Big Calendar
The end-year holiday season traditionally makes up the biggest quarter for console and game sales. The latest in the "FIFA" soccer series will also help fuel revenue during the holiday season, according to EA, Microsoft and Sony.
"The games make the difference, and this year we have really a very big release calendar," Sony's Bassendowski said.
Gaming is one of the segments helping Tokyo-based Sony put an end to a streak of financial woes -- the company posted losses in six of the past seven years -- as President Kazuo Hirai shifts away from phones and other consumer electronics.
Shannon Loftis, Microsoft's general manager for global games publishing, said XBox sales will get a boost this Christmas from the "greatest games lineup in XBox history." That includes the new "Halo", "Forza Motor Sports," as well as blockbusters including "Call of Duty" and "Fallout," she said.
Before it's here, it's on the Bloomberg Terminal.
LEARN MORE