New FCC Rules Could Fill Broadway Shows With Static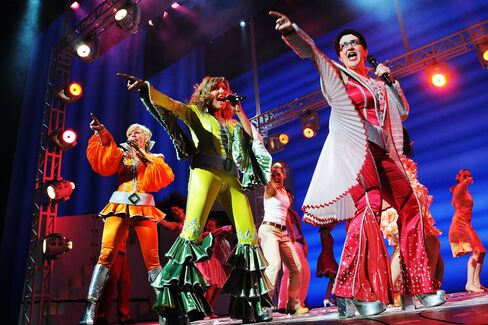 Broadway moguls are crying "Mamma Mia!" over a federal regulator's plan to assign less desirable frequencies to cordless microphones actors wear, saying the switch could result in static.
"Interference is not acceptable for a live performance in front of a live audience," said Tom Ferrugia, director of government affairs for the Broadway League, a New York-based trade group for theater owners and producers.
Performing arts groups -- in addition to headset-wearing football coaches and TV news stations that use wireless microphones -- worry they'll be squeezed out and forced to share frequencies when the Federal Communications Commission restructures U.S. airwaves to make room for the growth in smartphones and mobile devices.
The agency is set to vote Thursday on rules for next year's auction of airwaves coveted by mobile providers such as AT&T Inc. and Verizon Communications Inc. The sale, which is expected to raise billions of dollars for the U.S. Treasury, could shuffle the microphones onto frequencies shared with other wireless gadgets.
In some cases, cordless microphones would end up with the same amount of exclusive access to airwaves they had before the auction, according to an agency official who asked for anonymity because the efforts weren't yet public.
However, much of that space would be in buffers between frequencies assigned to TV stations or wireless carriers, something opponents say could leave them susceptible to interference -- a no-no on the Great White Way.
Buffer Zones
The airwaves in the buffer zones are of lower quality and wireless mics wouldn't be able to find "clear, clean channels they need for on-stage and on-air productions and performances," said Laura Stefani, an attorney at Fletcher, Heald & Hildreth who represents Sennheiser Electronic Corp., a closely held microphone manufacturer, in an e-mail.
Cordless mics were relocated on the airwave spectrum in 2010 after an earlier FCC auction, which required Broadway theaters to buy new microphones that worked in the new frequencies at a cost between $1,000 and $1,500 each. Big shows like "The Lion King," "Mamma Mia!" or "Wicked" typically use between 80 and 100 wireless microphones, Ferrugia said.
In 2010, some nonprofit theaters spent between $25,000 and $100,000 on new microphones, said Laurie Baskin, director of research, policy and collective action at the Theatre Communications Group, which represents 500 nonprofit theaters. "We are all concerned about what it will cost when the FCC finishes the auction next year," Baskin said in e-mail.
NFL Coaches
The theater crowd isn't alone in pushing the FCC to minimize the disruption and maximize the spectrum available for cordless microphones. They've also heard from the National Football League, which wants to protect the ability of coaches to communicate with their quarterbacks.
"Every NFL game relies on hundreds of wireless microphones for high-quality communications," Gerard J. Waldron and Jeff Kosseff, both of Covington & Burling, who represent the football league, wrote in an FCC filing. Wireless microphones allow coaches to call plays to quarterbacks and defensive players via headsets that are installed in the players' helmets. Referees also use wireless microphones to quickly communicate with replay officials, they said.
TV broadcasters also use the technology to interview ball players on the field and other newsmakers in remote locations.
Current proposals being discussed might reduce by two-thirds the airwaves available to news-gatherers using wireless microphones, said Patrick McFadden, vice president of spectrum policy at the National Association of Broadcasters.
Emergency Broadcasts
McFadden said he worries that after the auction, even the reduced airwaves won't be available for exclusive use by local news stations, increasing the chance of interference.
"At the end of the day, broadcasters are the party that provides local news in times of emergency or national security events," McFadden said. "We need the tools to do that, and one of the tools we need is spectrum to use wireless microphones."
For musicals, wireless mics are needed to amplify singers above the orchestra and for intercoms backstage to coordinate stage sets and performers.
Under the FCC plan "there will almost certainly be interference that would make audience experiences frustrating and unpleasant and contribute to dangerous situations from moving scenery, special effects and other stagecraft," according to an FCC filing from the Alliance of Resident Theaters/New York, which supports nonprofit theaters.
Auction Proceeds
The FCC auction is the first in which TV stations will surrender airwaves licenses for a cut of the proceeds.
CTIA-The Wireless Association pushed the FCC to change its rules for unlicensed airwaves use of wireless microphones and other devices, saying they needed to protect "licensed services from harmful interference," according to a July 27 filing with the FCC.
The demand for frequencies currently occupied by broadcasters comes as more companies vie for airwaves that allow signals to penetrate walls and buildings and travel farther distances, said Mark Brunner, senior director of global brand management for Shure Inc., a wireless microphone manufacturer.
He said Shure has worked with the FCC to try to find new airwaves for wireless microphones to operate, but none of them is as good as their current home.
Before it's here, it's on the Bloomberg Terminal.
LEARN MORE