Bad-Luck Month of Brazil's 'Mad Dog' Menaces Rousseff Rule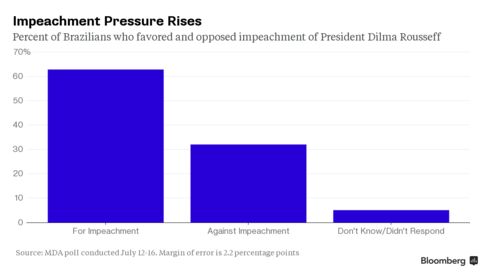 There's a sense of foreboding in Brasilia this month as politicians remember Augusts past, including the resignation of one president, the suicide of another and protests that led to Brazil's first impeachment.
Already more than 100,000 people have signed up on social media to march against President Dilma Rousseff on Aug. 16. Those demonstrations may embolden her opponents in Congress, as lawmakers return from recess this week to an agenda that includes requests to impeach the president and tax bills Rousseff says are needed to shrink the budget deficit.
The deepening recession and a corruption scandal reaching senior figures in Rousseff's party have already depleted her political capital and pushed her popularity to record lows. Any further deterioration in her fortunes puts at risk the budget savings she painstakingly pushed through Congress this year and threatens Brazil's hard-won investment-grade rating.
"August is known as a bad-luck month," said Danilo Forte, a deputy leader in Congress of the Democratic Movement Party, which is allied with the government. "Everything is going to very much depend on the outrage channeled by the demonstrations."
August, dubbed the month of the "mad dog" in an old expression in Portuguese for its tendency to bring bad fortune, will be crucial to see how -- or if -- Rousseff will govern for the rest of her second term.
The increased political instability is weighing on investors. The real has depreciated 24 percent this year, the most among major world currencies, and the cost to buy protection against a default as measured by credit-default swaps has grown more than 50 percent.
Serious Threats
Congress already has received requests from citizen groups to start impeachment proceedings against the president on charges that include benefiting from corruption at state-run oil company Petroleo Brasileiro SA. She denies the allegations.
One of the most serious threats to Rousseff in August is the expected ruling by auditors on allegations her administration used illegal financial maneuvers in 2014 fiscal accounts. Opposition lawmakers have said that such a decision could provide grounds to oust the president. The administration says the practice was common in past governments.
The presidential press office declined to comment when asked about the chances of impeachment. It instead referenced comments Defense Minister Jaques Wagner made Monday when he told reporters the government's main concern is "to keep the country working."
Cunha's Split
A key figure in deciding whether to start impeachment proceedings, lower house President Eduardo Cunha, split with the government before leaving for recess last month. He asked his Democratic Movement Party, known as the PMDB, to follow him and oppose the Rousseff administration.
Cunha, along with fellow party-member and Senate President Renan Calheiros, is one of more than 30 lawmakers under investigation for corruption. Cunha and Calheiros deny the allegations. The PMDB hasn't followed Cunha in his break from Rousseff, and political alliances will shift in Brasilia if new charges of graft are brought to light and more people are accused of wrongdoing, according to three government officials who requested anonymity.
Congress re-opened Tuesday after two weeks of recess.
Seeking to confront congressional challenges head on, Rousseff's ministers circulated to state governors a list of what they call "fiscal bombs" -- bills that would add to government expenses without a source of revenue. They asked the governors to tell their supporters in Congress to block the measures.
'Hold Talks'
"We must prevent some bills from being approved because they wouldn't help the country's current situation," Jose Guimaraes, the government's leader in the lower house, said by telephone. "We're going to hold talks with everyone."
In addition to avoiding these spending measures, the administration must convince legislators to pass proposals such as tax increases on company sales and a bill that would raise revenue by creating incentives for Brazilians to pay a fine and repatriate money parked illegally offshore.
Boosting fiscal revenue and reducing expenses took on renewed importance July 28 when Standard & Poor's placed Brazil's sovereign debt one decision away from junk status by cutting its outlook to negative. Three days after the S&P announcement, the central bank reported Brazil's June primary budget deficit, which excludes interest payments, surged to the highest level of the year.
'Enormous Frustration'
"How is the government going to generate a primary surplus in the next few years?" Roberto Padovani, chief economist at Sao Paulo-based brokerage Votorantim Ctvm Ltda, said by phone. "There's enormous frustration on the tax income side. On the government expenses side, the political crisis complicates the approval of austerity measures."
It's now or never for those in favor of ousting Rousseff as political and economic pressures may abate and give way to more favorable conditions, said a government official who asked not to be named giving an evaluation of challenges for the president.
Rousseff's approval rating is at a record low and roughly six of 10 respondents in a July 12-16 poll conducted by public-opinion research company MDA favored impeaching the president. The demonstrations on Aug. 16 will bring together groups calling for her ouster and others marching against government corruption.
Cruel Month
Rousseff publicly hasn't expressed dismay about her falling popularity. "I personally know how to support pressure," she told governors last week. "This is something that every leader must be able to do."
August is a month that has been particularly cruel to past leaders as well. Getulio Vargas, the president that created the state oil company, committed suicide in August 1954, and Janio Quadros resigned in August 1961 in an event that helped precipitate a coup d'etat three years later. Protests in August 1992 led to the impeachment of Fernando Collor, now a senator under investigation for corruption.
The chances Rousseff will finish out the rest of her second term "will depend greatly on the street protest," PMDB congressman Forte said. "Our plan can't be to spend the next three and a half years bleeding."
Before it's here, it's on the Bloomberg Terminal.
LEARN MORE