Banks Snub Summer Break for New Bonds With Riskiest Offers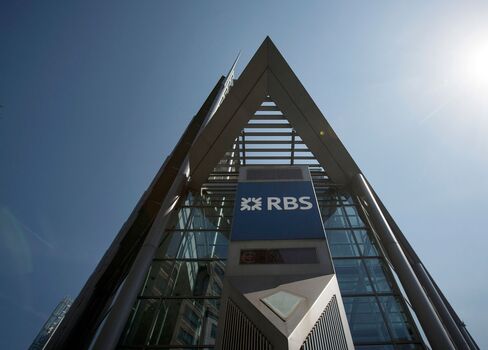 Even as much of Europe's bond market slows down for the summer holidays, sales of the riskiest bank debt are surging back to life.
Royal Bank of Scotland Group Plc sold $3.15 billion of additional Tier 1 bonds on Wednesday, following deals totaling $3.1 billion by Barclays Plc and UBS Group AG in the previous five days. Before then, there hadn't been any sales for seven weeks.
The unseasonal surge in activity has been fueled by an easing of the Greek fiscal crisis, which roiled debt markets and deterred new issuance. Further offers may follow, as Standard Chartered Plc said on Wednesday it could consider raising capital, while Societe Generale SA increased targets.
"Expect more to come," said Dan Lustig, who helps oversee about $1.15 trillion as a senior analyst at Legal & General Investment Management in London. "The Greek crisis postponed the significant pipeline that was ready."
Additional Tier 1 notes are designed to shift losses to investors instead of taxpayers in a crisis. They have optional interest payments and convert to stock when equity falls below a set percentage of risk-weighted assets. European regulators require banks hold equity or AT1 notes worth at least 1.5 percent of risk-weighted assets.
Illiquid Summer
The sales pickup for the notes contrasts with more traditional dry spells for other bonds. There has been only one euro-denominated high-yield deal since July 24, according to data compiled by Bloomberg.
The summer slowdown is contributing to banks paying high rates to issue additional Tier 1 notes, said Philippe Bodereau, a portfolio manager at Pacific Investment Management Co., which oversees $1.52 trillion of assets. Barclays sold 1 billion pounds of the notes callable in seven years at 7.875 percent on Tuesday.
"These are really attractive levels for investors if you believe in the credit story," Bodereau said. "Issuers are having to pay up to issue in an illiquid summer market."
RBS sold $2 billion of notes callable in 2020 at 7.5 percent and $1.15 billion callable in 2025 at 8 percent, according to a person familiar with the matter who isn't authorized to speak publicly. The lender said last week it would sell its first additional Tier 1 notes to help boost capital ratios.
U.K. banks are seeking to shore up capital buffers ahead of a second round of regulatory stress tests, focusing on developing markets and commodity exposure.
Standard Chartered will complete a capital review after these tests, Chief Executive Officer Bill Winters said on an earnings conference call. The lender also cut its dividend after reporting a slump in first-half profit.
Societe Generale boosted the target for its common equity Tier 1 ratio, a key measure of financial strength, to 11 percent by the end of 2016 from at least 10 percent.
(A previous version of this story was corrected to fix a company name in the second paragraph.)
Before it's here, it's on the Bloomberg Terminal.
LEARN MORE