Yemen Forces Gain in War Backed by Saudi Coalition Advisers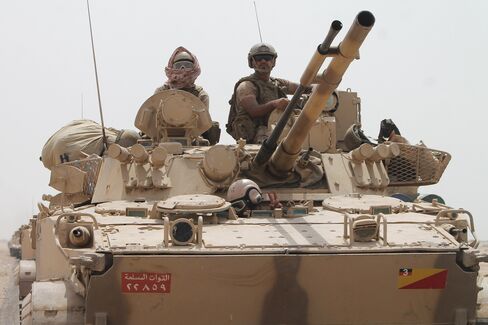 Yemen's Saudi-backed forces said they've pushed Houthi fighters out of a key military base and a provincial capital, victories that may allow them to advance deeper into rebel-held territory.
The al-Anad base, 60 kilometers (38 miles) north of the southern port city of Aden, was seized after days of battles in which dozens of Houthi rebels and pro-government fighters died, the state-controlled Saba news agency reported. The Houthis were also driven out of al-Hawtah, the capital of the province of Lahj, according to Ali al-Ahmadi, a spokesman of the Saudi-backed forces, and local residents.
The gains show how pro-government forces, backed by airpower and advisers from the Saudi-led military coalition, are maintaining their momentum in the fight against the Shiite rebels since re-taking Aden last month. The victories, however, remain confined to southern Yemen.
Capturing al-Anad represents "a big achievement," Mustafa Alani, an analyst at the Gulf Research Center in Geneva, said by phone. The most fortified airbase in Yemen, al-Anad offers the coalition a launchpad from which it may be able to expand its presence in the south, and perhaps move north toward the capital, Sana'a, Alani said.
The Houthis still control swaths of north and central Yemen as well as state institutions, said Sultan Barakat, director of research at the Brookings Doha Center.
No Game Changer
"I wouldn't bank too much on this as a game-changer at this stage," he said.
The Saudis have led a four-month bombing campaign aimed at rolling back Houthi advances and reinstating the ousted government of President Abdurabuh Mansur Hadi. Pro-government forces retook Aden from the Houthis in July after months of fighting.
Read this next:
Some 3,000 Yemeni soldiers trained and equipped by the Saudi-led coalition are participating in military operations in the south, an alliance spokesman, Ali al-Ahmadi, said by phone on Monday. The forces were backed by dozens of tanks, he said.
As many as 5,000 Yemenis have received military training at camps inside Saudi Arabia in recent months, according to Alani, and some of them are among the forces deployed in southern Yemen. The coalition has also sent armored vehicles, artillery and communication systems, he said.
The Shiite Houthis seized Sana'a in September and then forced Hadi's internationally recognized government to flee the country this year, to Saudi Arabia. The Saudis say the rebel group is backed by Iran, which the Houthis deny. Yemen lies adjacent to key shipping routes.
The United Nations says more than 1,895 civilians have been killed and 4,182 injured since the airstrikes began in March. Fighting continued last week during a scheduled humanitarian cease-fire.
The UN said last week that it's received only 15 percent of the $1.6 billion in its Yemen humanitarian appeal.
Before it's here, it's on the Bloomberg Terminal.
LEARN MORE