Who to Trust on Global Growth? Nasdaq Buyer or Commodity Seller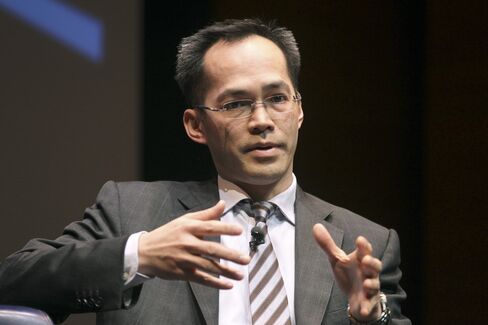 These are divisive days in the world economy.
The Federal Reserve and the Bank of England are readying to raise interest rates, while the Bank of Japan and the European Central Bank keep monetary policy ultra-loose. Developed economies led by the U.S. are displaying signs of strength or at least stability as emerging markets succumb to China's slump.
Such forces are creating divergences in financial markets too. Take the Bloomberg Commodity Index, now down 13 percent this year and around its lowest since 2002. Brent Crude on Monday ducked below $50 a barrel for the first time since January. Meanwhile, the Nasdaq 100 Index is up 8 percent this year and not far from last month's record high.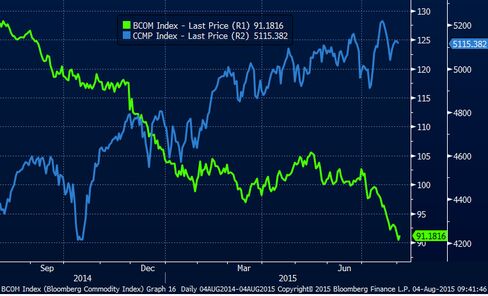 To Stephen Jen, the founder of London-based hedge fund SLJ Macro Partners LLP who correctly predicted the end of the emerging-market lovefest, the sell-off in oil and other raw materials reflects the struggles of developing economies. As a bloc they are on course for their weakest year since 2009 with China expanding at its slowest pace in 25 years.
On the flip-side, equity markets are representative of the low interest rates and central-bank bond-buying across rich economies, according to Jen, a former International Monetary Fund economist.
The question he is asking fellow investors is whether the two trends are sustainable. Can commodities keep going down and tech stocks up or will there be reconciliation?
Outlook Reassessment
Jen envisages two stages. The first, which is underway now, is that developed-market central bankers seize upon the low inflation resulting from cheaper food and energy to justify stimulative monetary policies, providing investors with reason to buy stocks a little longer. Even if the Fed and the BOE raise borrowing costs this year their leaders are vowing to move only gradually, leaving a lot of cash in the system.
The next stage is less appealing, according to Jen. That's when equity investors rethink the outlook for the world economy with the catalyst likely being when the Fed finally starts raising interest rates, perhaps as soon as next month.
For four decades, Fed officials aligned tighter policy with a period of above-trend global growth, economists at JPMorgan Chase & Co. said in a note to clients last week. This time U.S. central bankers are preparing to act after worldwide expansion of just 2 percent in each of the past two quarters, according to the report.
Once the Fed does shift, the resulting rise in U.S. bond yields is the likely spur for a review of equity valuations in rich nations and a further dumping of stocks in emerging markets, Jen told clients in a report last week.
"The risk of a significant correction in global equities rises as we approach the first Fed rate hike," Jen said. "The Fed has carefully engineered an asset market-led economic recovery. This in turn made it very difficult for the Fed to exit from its current policy stance. But when it does, as it will need to at some point, there will be consequences."
Before it's here, it's on the Bloomberg Terminal.
LEARN MORE