S. Africa Opposition Party Seeks to Impeach Zuma Over Al-Bashir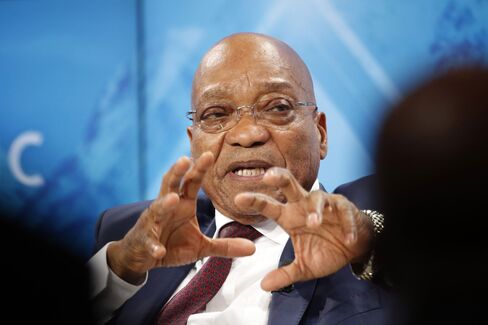 South Africa's largest opposition party called for lawmakers to debate a motion of impeachment against President Jacob Zuma over the government's failure to bar Sudanese leader Umar al-Bashir from leaving the country.
The impeachment motion has been proposed for Aug. 18, the Democratic Alliance said in an e-mailed statement.
The government granted al-Bashir immunity to attend an African Union summit in Johannesburg in June, while the High Court ruled it was obliged to arrest him under two International Criminal Court indictments.
The DA needs one-third of lawmakers to support the motion for impeachment proceedings to begin. It has 89 lawmakers in the 400-seat National Assembly as opposed to 249 for the ruling African National Congress.
Zuma has faced two motions of no confidence that were quashed by the ANC majority. This is the first bid for impeachment since democratic rule in South Africa in 1994.
Before it's here, it's on the Bloomberg Terminal.
LEARN MORE