Kurdish Leader Demirtas Blames Turkey's Government for Violence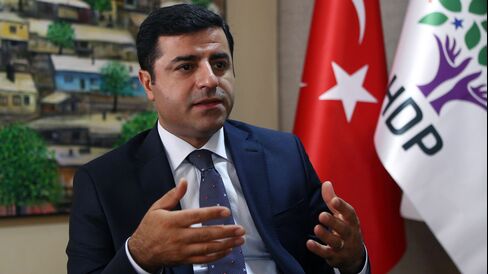 Turkey's government has deliberately chosen to escalate the conflict with Kurdish rebels for political ends, and will be punished by voters if early elections are held, the leader of the country's main Kurdish party said.
"This war strategy backfired," Selahattin Demirtas, co-chair of the People's Democracy Party or HDP, said in an interview in Ankara on Tuesday. "When the ballot boxes are reopened, the AKP isn't going to get what it was hoping for."
After 13 years in power, Turkey's governing AK Party lost its majority in June elections and hasn't been able to enlist a coalition partner, raising the prospect that the country will be forced into a repeat ballot. Most of the government's losses were inflicted by Demirtas's party, which took 80 seats in the 550-member legislature after a surge in support.
In the past two weeks, Turkey has stepped up military action against the Kurdistan Workers' Party or PKK, ending a three-year truce and a nascent peace process. The government says the PKK is as big a threat to the country as Islamic State, whose fighters across the border in Syria have also been hit by Turkish airstrikes. The Kurds say Turkey is using its expanded role in the U.S.-led coalition against the jihadists as a cover for a renewed war on the PKK.
The PKK has links to Demirtas's party, and Kurdish lawmakers have been accused of tacit support for recent attacks by the militants, and threatened with prosecution. Demirtas himself has been singled out for blame by President Recep Tayyip Erdogan.
Demirtas denies the accusation. "We are calling on all sides to cease fire and return to the table for peace negotiations," he said. "Right now, we are the biggest source of pressure on the PKK."
Historic Result
He said that polling commissioned by his party suggests that if early elections are held in November, it could increase the 13 percent achieved in June. That was already a historic result, the first time a Kurdish party exceeded the 10 percent nationwide threshold for entering parliament, after a campaign that reached out beyond ethnic Kurds to attract support among liberal Turks.
If the Kurds dropped back below 10 percent, most of the 80 seats they won would go to the AKP, as the second-most-popular party in the largely Kurdish southeast.
Violence has spread through the region in the past month, with more than 20 soldiers and policemen killed by militants, including three soldiers who died Tuesday when their vehicle hit a land mine in Sirnak province. Turkey has responded with aerial attacks against rebel hideouts at home and in northern Iraq.
Before it's here, it's on the Bloomberg Terminal.
LEARN MORE