NHL Reaches Six-Year Agreement With Baseball's Technology Arm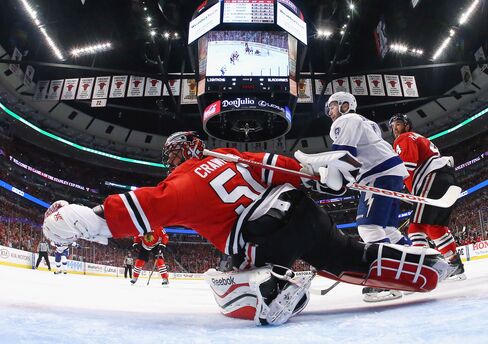 MLB Advanced Media will take over NHL's digital operations

NHL gets an undisclosed stake in third-party business
The National Hockey League signed a six-year contract with Major League Baseball's interactive media and Internet arm, or BAM, which will operate the league's digital operations, streaming services and NHL Network.
The agreement announced Tuesday also calls for the NHL to get an undisclosed equity stake in what's called BAM Tech, a third-party business. Bowman said BAM Tech is seeking additional partners and investors.
NHL Commissioner Gary Bettman called the agreement "transformational," noting that it's the first time two professional sports leagues in North America have entered into an agreement of this nature.
"Together we represent year-round programming and limitless opportunities to service our fans," he said on a media conference call. "Together, two sports could do more, be more, and have more possibilities than one. We're trying to see if one plus one equals three."

The rights fee being paid to the NHL wasn't disclosed. SportsBusiness Journal said the contract is worth more than $1.2 billion to the NHL.
BAM was started in 2000 and is equally owned by baseball's 30 teams. It has become a profitable venture for the owners who contributed about $4 million each to start BAM, which streams a bevy of programming, including World Wrestling Entertainment and HBO. BAM Tech will focus on non-baseball content.
Bob Bowman, MLB's president of business and media, said the agreement with the NHL was his company's "boldest effort yet."
"I don't know where it will lead," he said. "We know when you're given great content like the NHL good things happen. Stay tuned."

BAM said it expects to begin its NHL presence next year. The league's previous partner, NeuLion, will assist with the transition.
The New York Post in June said MLB retained Goldman Sachs and Evercore to explore options for its digital technology arm, including an initial public offering or equity sale. Bowman has since said there wouldn't be an IPO.
The NHL Network's daily on-air operations will be based out of MLB Network's headquarters in Secaucus, New Jersey.
The NHL and BAM have partnered before. They're both stakeholders in 120 Sports, a live-streaming online network whose investors include Time Inc.
Before it's here, it's on the Bloomberg Terminal.
LEARN MORE