MGM Resorts Rises as CEO Outlines Plans to Boost Stock Price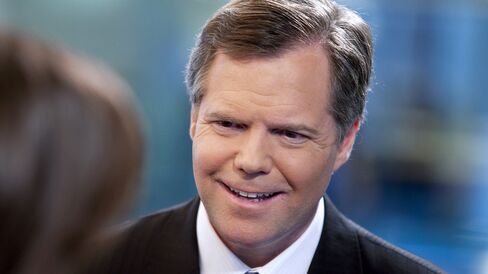 MGM Resorts International rose the most since March after reporting better-than-expected quarterly results and outlining plans to boost the stock price.
The shares advanced after Chief Executive Officer James Murren made his most favorable comments yet on the potential for a real-estate investment trust for MGM Resorts' casinos. The company will decide by year end. He also said MGM Resorts may expand the Crystals Mall in Las Vegas, with an eye toward selling the retail property and other nongaming assets there at CityCenter.
"We're not opposed to the structure," Murren said on a call Tuesday with investors when asked about putting MGM Resorts' casinos in a REIT.
The company is under pressure from Land & Buildings Investment Management LLC, which has called on Murren to sell casinos or spin off properties into a REIT. The CEO is also contending with the potential sale of a 16 percent stake in the company held by MGM Resorts' largest shareholder. Kirk Kerkorian, who died in June, left a will that directs his estate to sell the stock in an orderly fashion.
The predictability of cash flows at regional resorts and growing profit in Las Vegas boost the potential for a REIT structure, Murren said.
"Which is why for the first time, we're willing to say that we're months away from coming up with a conclusion to our board," Murren said.
MGM Resorts, which also reported better-than-expected second-quarter results, rose 9.6 percent to $21.75 at the close in New York. That marked the biggest advance since March 17. The stock is up 1.7 percent this year.
Quarterly Profit
The company unveiled an initiative it said will boost adjusted earnings before interest, taxes, depreciation and amortization by $300 million annually through 2017. The plan, which will increase revenue and cut costs, is expected to show results starting in the second half of this year.
Second-quarter earnings excluding some items totaled 19 cents, the Las Vegas-based casino operator said in a statement. Analysts predicted 11 cents a share, the average of estimates compiled by Bloomberg.
Sales declined 7.6 percent from a year earlier to $2.39 billion, also topping estimates, as gains in Las Vegas tempered a slump in Macau.
MGM Resorts, like other casino operators in Macau, has seen a slide in business as Chinese high rollers cut back amid economic weakness and a government crackdown on corruption.
Murren said Tuesday the company isn't actively trying to sell the Mirage hotel and casino.
Before it's here, it's on the Bloomberg Terminal.
LEARN MORE