Hurricane Parade Keeps Hawaii on Guard as Guillermo Approaches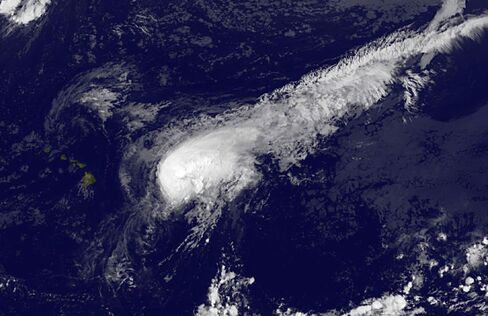 Hawaii's hurricane parade shows no signs of letting up a year after it began, a testimony to the heat rising from the Pacific Ocean.
Tropical Storm Guillermo is forecast to make a close pass to the north of the island chain starting Wednesday and continuing through Friday, according to the Central Pacific Hurricane Center in Honolulu.
"This year, it just has to do with the El Nino pattern we're in," said Jon Jelsema, senior forecaster at the center.
When it comes to global weather, most things come back to El Nino, when the Pacific's surface gets warmer than normal and the atmosphere above it reacts. The warmer the water, the more fuel there is to grow and maintain hurricanes and tropical storms.
In this case, the atmospheric changes have caused a decrease in wind shear over the waters around Hawaii, Jelsema said.
Shear is when the winds at various altitudes blow in different directions or speeds. A hurricane is a big entity, wide as well as tall. A dose of wind shear can create an atmospheric tug-of-war that can tear the top right off a storm.
2014 Storms
The U.S. formally declared an El Nino in March. So what caused last year's storms? While the world's meteorological agencies didn't all agree there was one in 2014, conditions were close.
The waters across the eastern part of the Pacific basin were warm, all that was needed to get some storms going. Iselle hit the Big Island last August and Julio passed just to the north a few days later. The season ended with Ana making another run.
This year, a spate of storms that has come even earlier. Ela threatened in early July and Halola and Iune quickly formed nearby.
Halola was the most interesting because it marched all the way across the Pacific from a starting point south of Hawaii to bring rain and high winds to Japan. It lasted more than two weeks and crossed the International Dateline.
Now Guillermo is approaching from Hawaii's east, and it may trigger a round of tropical-storm warnings and watches across the chain. Jelsema said reconnaissance flights will keep track of Guillermo to help forecasters plot its track.
'Small Target'
If the path remains close to Hawaii to the north, there's a good chance the islands will get a drenching rain as Guillermo passes, said Frank Strait, senior meteorologist at AccuWeather Inc. in State College, Pennsylvania.
As Jelsema said, "the Hawaiian Islands are a fairly small target when you are talking the whole Pacific."
The hurricane center has tracked six tropical systems since Iselle, although not all have directly threatened Hawaii. Warnings triggered by Guillermo would be the third since that hurricane, Matt Foster, a meteorologist at the center, said Monday. Tropical storm warnings were issued Tuesday for parts of the chain.
"It is unusual, a lot for us," Foster said. "We anticipated a more active season due to El Nino."
Here's hoping for a little good luck and another miss in the long line of storms.
Before it's here, it's on the Bloomberg Terminal.
LEARN MORE