For nearly seven decades, Highlights magazine has been used to comfort anxious young souls trapped in dentists' offices and pediatrician waiting rooms. The publication says it has a circulation of more than 2 million, which would put it past those of Rolling Stone or the New Yorker, according to data from the Alliance for Audited Media. But Highlights has not had much success translating the familiar cartoons, puzzles, and wholesome edutainment to the gadgets in which kids are increasingly burying their faces.
So Highlights for Children, the magazine's publisher, is turning to a San Francisco startup to help it connect with a mobile generation. The company is teaming up with Fingerprint Digital, a five-year-old venture that specializes in games for kids. Fingerprint will help develop and distribute at least three Highlights-branded applications over the course of the companies' four-year partnership.
The magazine's emphasis on digital is coming later than it has at many other media companies. Walt Disney, Time Warner's Cartoon Network, and Viacom's Nickelodeon have found successful formulas for creating popular kid-friendly apps. Children are spending more of their time with Minecraft, Where's My Water?, and other mobile games as parents pass along hand-me-down smartphones and tablets.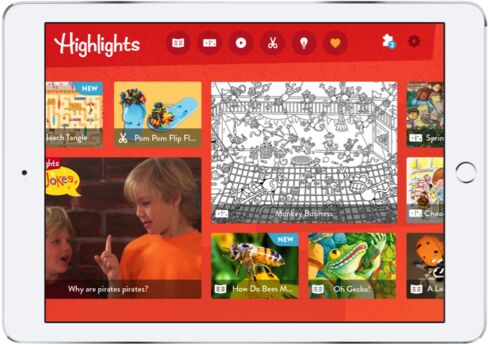 Highlights was relatively early to the App Store. It worked with a contract developer to release Highlights My First Hidden Pictures in 2010. It put out several other games but never managed to create a lasting hit. None of its apps rank in the top 500 game downloads in any country as of Aug. 2, according to research firm App Annie.
The Highlights company, based in Columbus, Ohio, and Honesdale, Penn., has about 700 employees and is closely held by investors. Kent Johnson, the chief executive officer, is a great-grandson of the founders. The company generates more than $100 million in revenue a year, according to a person familiar with the company who was not authorized to discuss its financials. Home subscriptions are its main source of profit.
Part of the focus on apps is to prevent Highlights from being perceived by today's youth as the magazine their grandparents read. "As the world is changing quickly, and we think about opportunities to reach more children, we shifted our strategy to strike a partnership with like-minded people," says Johnson. "What people love about Highlights is it's wholesome and it's trusted."
The App Store will get a dose of wholesome entertainment when Highlights and Fingerprint release their first two apps before the end of the year. One lets kids build their own stories, and the other is a new twist on the hidden-picture game. They'll make use of Highlights' 69 years of back-catalog content. Then in January, they'll release a digital version of the magazine, which will contain interactive features and video, as well as automatically adjust to users' preferences according to how they interact with it. The apps will let kids experience parts of them for free; to avoid cannibalizing the print edition, the full versions are expected to each cost from $4.99 to $9.99 a month.
The cooperation with Highlights is a big deal for the San Francisco game developer. Fingerprint CEO Nancy MacIntyre says Highlights for Children has agreed to spend at least $1 million on marketing, and Fingerprint is devoting eight employees to the project, which is more than a quarter of its staff. The 30-person company projects revenue of $6 million to $7 million in 2015, she says. Fingerprint has raised $19.6 million from investors that include DreamWorks Animation, and a recent round valued the business at $52 million. The startup is currently raising an additional round of funding, MacIntyre says. "Highlights was always the holy grail," she says. "We're going to be married to them for a long time."
Before it's here, it's on the Bloomberg Terminal.
LEARN MORE