Here's One Trend That Could Drive a Rebound in U.S. Consumer Spending
In good news for consumers, banks are becoming more willing to lend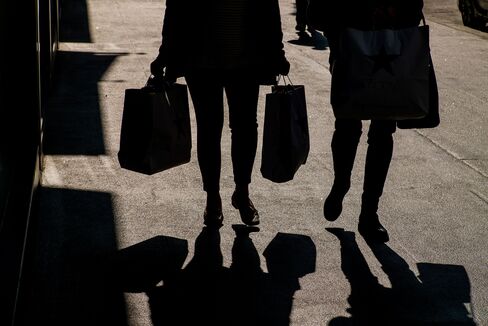 Spending by Americans may be on the cusp of rebounding. That's the takeaway of the Federal Reserve's latest survey of senior loan officers, which showed a continued rise in the share of banks more willing to lend to consumers.
"More lending means more spending," said Dan Binder, an analyst at Jefferies Group LLC in New York. By increasing in consecutive quarters this year, lending practices are "moving in the right direction," he said. The percentage of banks more willing to lend minus the share less willing is a leading indicator of retail-sales growth by about nine months, according to his analysis. The Fed's survey on bank loans is an important gauge of future spending trends, he said.
This gauge of lending activity increased to 10.4 percent in the quarterly survey released Wednesday. That's up from 8.3 percent in April and 4.4 percent in January.
Consumer spending has followed banks' lending practices. Retail sales excluding automobiles and gas stations grew 2.7 percent in June from a year ago, the smallest increase since early 2014, Commerce Department data show.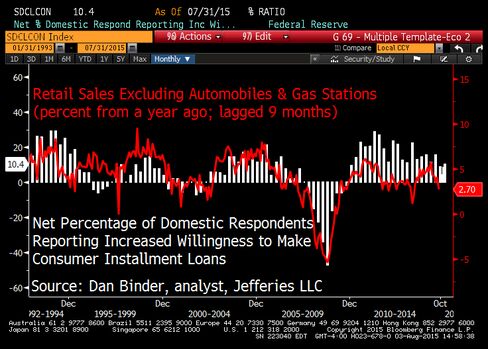 This is good news for the broader economy because consumer spending accounts for almost 70 percent of U.S. gross domestic product, said Walter "Bucky" Hellwig, who helps manage $17 billion as a senior vice president at BB&T Wealth Management in Birmingham, Alabama. This increased willingness to lend – notable given a more restrictive regulatory environment – can give a boost to households. Some consumers may be more willing to borrow amid an improving job market and lower energy prices, he said.

Before it's here, it's on the Bloomberg Terminal.
LEARN MORE