Hamptons Scene: The Pink Party That Outgrew a North Haven Estate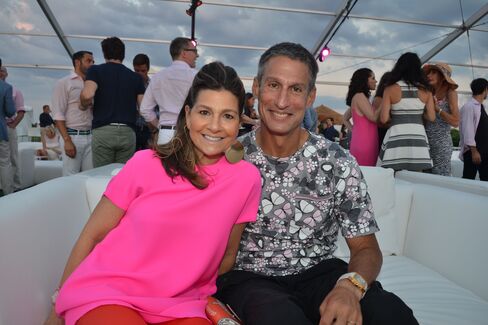 Richard Perry seemed content not to host a party in his North Haven backyard. "Isn't this more beautiful?" the hedge fund manager said as he looked out on Mecox Bay Saturday night.
The change of venue in the Hamptons had to do with the growth of the Paddle and Party for Pink, the Breast Cancer Research Foundation fundraiser he helped start in 2012.
For three years, Perry and his wife, Lisa, put up portable toilets and invited hundreds of people to mingle on their lawn overlooking Noyack Bay, each year squeezing in more white sofas, buffet tables and celebrities until someone was bound to fall into the pool.
What an investment: As more guests and sponsors joined, the party's fundraising total increased -- to $1.6 million this year from about $600,000 in 2012. Perry augmented his pink wardrobe - - a Thom Browne gray shirt with white and pink butterflies and Gucci pants on Saturday -- and the event became a rite of the well-lived Hamptons summer.
Bippy Siegal, founder and CEO of Raycliff Capital, cut short his vacation in Greece to attend, he said as he looked for his wife in the party's new locale, a very big tent with a clear ceiling on Fairview Farm in Bridgehampton. It could take a while in a tent this size, but Jackie is tall, wasn't wearing pink, and he had a hunch.
"She's bidding up the boards," he said before heading toward a display of stand-up paddle boards for auction. He found her in front of Lisa Perry's, decorated with paint splatters.
Admiring Eye
Gary Cohn, chief operating officer at Goldman Sachs Group Inc., kept an admiring eye on the board his wife created -- featuring the word "love" -- and applauded her effort in the paddle race that morning. The actress Lena Dunham said she wouldn't have been able to do the race without the help of fitness guru Tracy Anderson and surfer Laird Hamilton.
The awesome entertainment for all: a Hawaiian fire dance after sunset, comfortably far from anyone's beach house.
Also inspiring were attendees like Elisa Port of the Dubin Breast Center at Mount Sinai Hospital and Clifford Hudis of Memorial Sloan Kettering Cancer Center, as well as Jon Gray, global head of real estate at Blackstone Group LP and his wife, Mindy.
Jeans, Genes
The Grays' financial support helped establish the Basser Center for BRCA at University of Pennsylvania, which focuses on the BCRA gene mutations that increase risk for breast, ovarian, pancreatic and prostate cancers. The center holds its first New York fundraising event Nov. 10 at Cipriani Wall Street, where guests are invited to wear jeans and "unzip your genes."
But let's not allow fall to creep up on us when we can linger in a supersized version of the Perry backyard. The decor by Lisa Perry included dozens of white sofas arranged VIP-lounge-style around bottles of rose champagne on ice. Restaurants including Harlow East offered tastings on one side of the room. The bar and stage were in the middle.
The level of celebrity was also supersized in the form of Gwyneth Paltrow, who welcomed guests and noted two friends her age had double mastectomies this year. The founder of Goop, the lifestyle website, said she was there to support her business partner Maria Baum, chief executive of Tracy Anderson Mind & Body LLC (Paltrow is an owner).
Baum conceived the Paddle and Party for Pink after finding solace in paddling during her chemotherapy for breast cancer. Some of the event's first supporters were women she had worked with on Wall Street. The former trader is still the event's guiding force and "an amazing example of a patient turned advocate," said Kinga Lampert, co-chairman of the Breast Cancer Resesarch Foundation. As night fell her husband Edward Lampert, the hedge fund manager who runs retailer Sears Holdings Corp., chatted with real-estate developer David W. Levinson.
Before it's here, it's on the Bloomberg Terminal.
LEARN MORE