Credit Agricole Plummets After Signaling Delays to Overhaul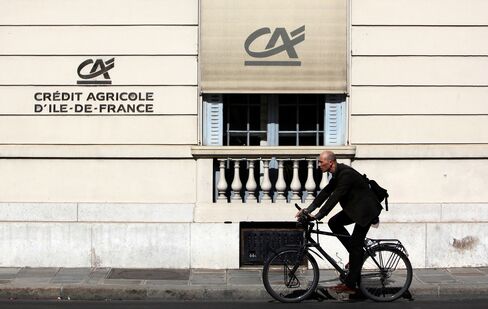 Credit Agricole SA tumbled after France's second-largest bank signaled it failed to win backing from regulators for a reorganization that could free up cash to reward investors.
The shares fell 11 percent, the biggest drop since November 2011, in Paris trading to 12.80 euros by 2:10 p.m.
Credit Agricole is still in talks with the European Central Bank about the company's structure, the lender said in a statement Tuesday as it reported a rebound in second-quarter profit. The bank started discussing a reorganization almost two years ago, before the ECB took over as the euro area's single supervisor.
The changes the company is seeking may include a transfer of central functions from the listed bank to regional lenders which own a majority stake in Credit Agricole, according to a report by JPMorgan Chase & Co. Stopping this "will come as a major disappointment to the market, and will raise questions about capital and regulatory risks," JPMorgan analysts Delphine Lee and Kian Abouhossein wrote.
There has been speculation that the reorganization could fund a payout of 2 billion euros ($2.2 billion) to 5 billion euros to investors and that now appears unlikely, Jean-Pierre Lambert, an analyst at Keefe, Bruyette and Woods in London, said in a note to clients.
Reality Check
"We have to stick to what is the reality," Credit Agricole Chief Financial Officer Jerome Grivet told analysts. The bank has various options to improve its operations and "we are going to work on these tracks and to try to progress," he said.
A spokesman for the ECB in Frankfurt declined to comment.
Credit Agricole Group, the entity that regulators and rating firms look at, had common Tier 1 equity, a measure of financial strength, of 13.2 percent at the end of June, up from 13 percent three months earlier, the bank said. Credit Agricole SA's common Tier 1 equity was stable at 10.2 percent.
Credit Agricole regional banks own a majority stake in Credit Agricole SA, which in turn owns 25 percent of the local banking networks. The regional banks provide the lender with capital guarantees of as much as 28 billion euros.
The bank said it set aside 350 million euros for legal costs in the quarter related to a U.S. investigation into sanctions violations, a case Credit Agricole said will probably be resolved in coming months. The lender's total litigation provisions now amount to 1.6 billion euros.
Net Income
Net income rose to 920 million euros in the second quarter, the bank said, from 77 million euros a year earlier and a 901 million-euro average estimate of five analysts surveyed by Bloomberg. Losses linked to the demise of Portugal's Banco Espirito Santo SA hurt profit in the year-earlier period.
Before today's decline, Credit Agricole shares had gained 34 percent this year, outpacing the STOXX Europe 600 Banks Index's 18 percent gain.
"The market reaction is due to investors' concerns that the ECB will not approve the restructuring process of the bank," said Stefano Girola, who helps manage about 25 billion euros at Syz Asset Management SA in Lugano, Switzerland.
Before it's here, it's on the Bloomberg Terminal.
LEARN MORE