Chesapeake's Options Seen as Selling More or Selling Out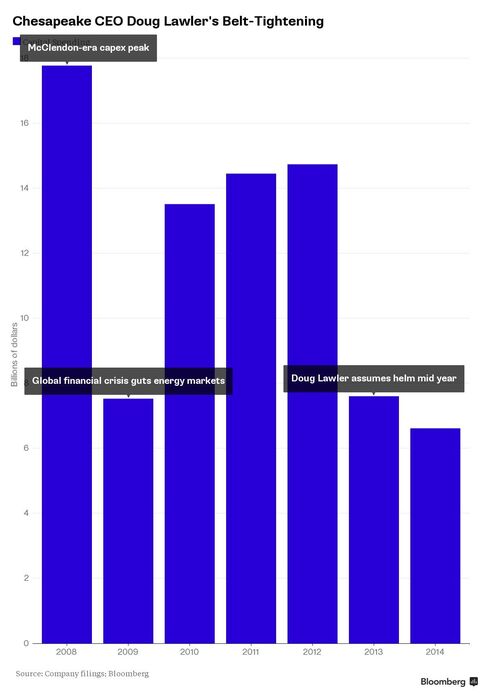 Since taking over Chesapeake Energy Corp. in 2013, Doug Lawler has sold off gas fields, pipelines, buildings and drilling rigs, cutting net debt by $3.8 billion.
For investors, it's not enough.
Some see the company as an acquisition target. Others suggest a last-ditch sale of an additional half-billion dollars in assets could help accelerate drilling in the Ohio and Texas shale fields where it may reap its biggest returns.
Since co-founder Aubrey McClendon was forced out by investors who targeted his debt dealings, the company's market value has fallen by 58 percent. The debate comes as analysts expect Chesapeake will continue to lose money for another 18 months as depressed prices aggravate weighty pipeline commitments.
Lawler is "dealing with a big hangover there," said Christopher Geier, partner-in-charge of of Sikich LLP's investment banking practice. "He has been untangling things and making it less and less complicated so that now the company looks to me like it's ripe for a takeover."
The company Wednesday may outline a 46 percent revenue drop from a year earlier, to $2.78 billion, according to the average of 30 analysts' estimates in a Bloomberg survey. They expect a second-quarter per-share loss of 11 cents.
Chesapeake is bound by pipeline contracts to ship minimum amounts of gas or pay cash compensation to the pipe owner. In areas where low gas prices make it unprofitable to drill, the company is on the hook for millions in penalty payments.
Oil has lost more than half its value in the past year, and natural gas is down by more than a quarter. U.S. September natural gas futures traded at $2.813 per million British thermal units at 9:47 a.m. local time on the New York Mercantile Exchange, down 27 percent from a year earlier.
While Lawler declined to be interviewed for this story, and the company had no comment, there's no shortage of opinions from analysts and investors about what the next step should be.
'Moving the Needle'
"The market is pricing the stock of Chesapeake as if the liquidity situation is hopeless," said Tim Rezvan, an analyst at Sterne Agee & Leach Inc., who rates the shares a buy and said concerns are overblown. "They're moving the needle the right way but the market wants a multibillion-dollar deal."
Chesapeake shares fell 5.9 percent to $8.15 in New York trading on Monday, touching a 12-year intraday low of $8.08.
Perhaps the biggest change under Lawler has been his insistence on "squeezing as much efficiency out as possible," Geier said. Lawler scaled back capital spending since he arrived, bringing it down to $6.62 billion last year, 63 percent lower than the peak of $17.8 billion in 2008.
Selling Chesapeake to another company may be a bitter pill for Carl Icahn, who led the shareholder group that installed Lawler atop the second-biggest U.S. natural gas producer. The billionaire accumulated his 11 percent stake when the stock was trading at higher prices, Geier said. Icahn didn't respond to interview requests.
Sell or Partner
Analysts including Sterne Agee's Rezvan and Neal Dingmann at SunTrust Robinson Humphrey Inc. expect Chesapeake to sell or find partners for oil and gas fields in places such as Oklahoma or the Rocky Mountains.
Chesapeake's 74,000 acres of drilling rights in an oil-soaked formation in northern Oklahoma could fetch $400 million to $500 million, Rezvan said. Devon Energy Corp. and Cimarex Energy Co. are some of the operators who've made promising discoveries in the same area, he said.
Auctioning Great Plains or Rockies assets could generate a quick $500 million that Lawler could use to accelerate drilling in Chesapeake's more-promising Utica or Eagle Ford shale fields, Dingmann said.
"They're not out of options," Dingmann said. "There's something like $80 billion of private equity money out there looking to buy upstream assets. Chesapeake has a massive footprint of acreage."
Before it's here, it's on the Bloomberg Terminal.
LEARN MORE