Brady Told NFL Air Pressure Wasn't Issue in Choosing Game Balls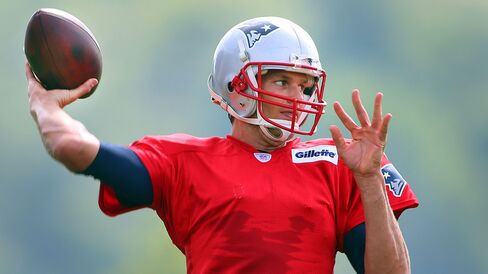 New England Patriots quarterback Tom Brady said he never considered the "inflation level" when choosing a football for game day, according to a transcript of his testimony before NFL Commissioner Roger Goodell.
"Mr. Brady, did the issue of inflation level ever come up as a factor when you are choosing your balls or deciding upon the balls? Is that something you think about?" a lawyer for the players union asked Brady during a confidential proceeding on June 23 at NFL headquarters in New York.
"Never," Brady replied, according to a transcript of his testimony filed Tuesday in Manhattan federal court.
The union is fighting Brady's four-game suspension imposed after the National Football League concluded he was probably aware that team staffers deflated game balls below the minimum air pressure prior to last season's conference championship game against the Indianapolis Colts.
The league rejected an appeal by the two-time NFL Most Valuable Player and sued July 28 to confirm Brady's suspension. The NFL Association brought its own suit to reverse it. The union on Tuesday filed legal documents that included testimony and other witnesses.
The NFL and the players association have asked U.S. District Judge Richard Berman in Manhattan to resolve the case before the start of the season on Sept. 10. The judge set a settlement conference for Aug. 12.
Feel, Grip
Rather than air pressure, Brady said his preference for game balls was based on feel and grip. In his testimony, he detailed what he called a "very rigorous process" of breaking in game balls that included dirt, sandpaper, leather conditioner and tacky material from receivers' gloves. Brady said when he's talked in the past about whether a ball felt soft or hard, he was referring to the softness of the leather.
Brady said at the hearing that the irony of the situation is that he doesn't even really squeeze the football, comparing it to how he gently grips a golf club. Brady said he wouldn't be able to differentiate between footballs inflated to the NFL's allowable limit of 12.5 to 13.5 pounds per square inch.
"I think that's something that's really important to know is I grip the ball as loosely as possible," said Brady, who has led the Patriots to four Super Bowl titles. "That's why it's impossible for me to probably tell the difference between what 12.5 and 12.7 or 12.9 and 13 because I'm just gripping it like a golf club. You don't squeeze the golf club. You handle it very gently. And that's the same way I hold a football."
In rejecting Brady's appeal of the suspension, Goodell noted last month that Brady had his personal mobile phone destroyed just before meeting with investigators, an act the commissioner said was an effort to conceal potentially relevant evidence and to undermine the probe.
Broken Phone
Brady said he replaced a broken phone after his attorneys made it clear to the NFL that they wouldn't allow his phone to be investigated under any circumstances. Brady said in a statement a day after Goodell rejected the appeal that the dispute about his mobile phone was manufactured by the league to overshadow its lack of proof of his involvement in the deflated-ball controversy.
In his testimony at the June 23 hearing with the NFL, Brady said he was never told by investigators that he faced discipline if he didn't turn over his phone. Brady said he had nothing to hide and that, if possible, he would have produced his mobile device no matter what his legal counsel said if he'd been told by investigators that it was his duty to cooperate.
Private Content
Yet Brady said he routinely asks his assistant to have his phones destroyed when replacing them due to privacy concerns.
"I don't want anybody ever to see the content of the phone," Brady said. "Obviously there is a log with the smart phones of all my e-mail communications. So in those folders, there is player contracts. There's endorsement deals. There's photos of my family and so forth that I just don't want anyone to ever come in contact with those."
The transcript noted that forensic experts had access to two of Brady's mobile devices. They contained phone and text messages covering periods from March or May 23, 2014, to Nov. 5, 2014, and March 6 of this year through April 8.
Brady's lawyer, Jeffrey Kessler, said during the 10-hour hearing at the league office that they provided investigators with phone logs that show all Brady's text messages. That log includes texts that matched up with relevant exchanges between Brady and Patriots equipment assistant John Jastremski, who was in charge of preparing the team's game balls.
Kessler also noted that NFL players previously found to have not cooperated with an investigation were fined rather than suspended.
The case is National Football League Management Council v. National Football League Players Association, 1:15-cv-05916, U.S. District Court, Southern District of New York (Manhattan).
Before it's here, it's on the Bloomberg Terminal.
LEARN MORE