Apple Replacing AT&T in Dow Industrials Causes Average to Suffer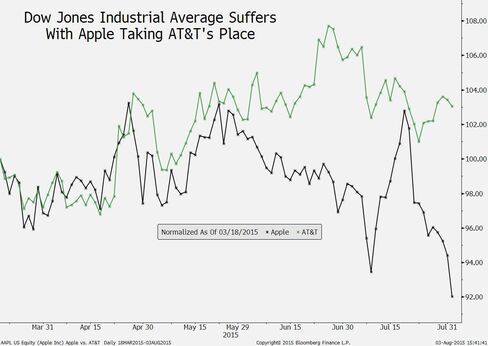 Apple Inc. was added to the Dow Jones Industrial Average at a bad time.
The attached chart illustrates this by tracking the iPhone maker's stock performance since joining the Dow average. Apple, the world's largest company by market value, replaced AT&T Inc. after the close of trading on March 18.
Apple peaked on April 28, or about six weeks after going into the Dow. Yesterday, the stock dropped to its lowest price since January and retreated below its 200-day moving average, a gauge of price trends, for the first time since September 2013.
From Apple's debut through yesterday, the stock cut the value of the Dow by 67 points, according to figures compiled by Bloomberg. The Cupertino, California-based company accounted for 14 percent of the industrials' loss during that period.
The decline in Apple's stock price contrasted with a gain for Dallas-based AT&T, the largest U.S. phone company, as shown in the chart. AT&T climbed as much as 7.7 percent on a closing basis after dropping out of the Dow average. The advance stood at 3.2 percent yesterday.
Three stocks that joined the Dow together in September 2013, Goldman Sachs Group Inc., Nike Inc. and Visa Inc., were among the four that added the most points to the average after Apple's inclusion. Walt Disney Co. was the other one. Goldman, Nike and Visa contributed a total of 257 points.
Before it's here, it's on the Bloomberg Terminal.
LEARN MORE