U.S. Coal Giant Greets Obama Climate Rules With Bankruptcy
The second-biggest U.S. coal producer filed for bankruptcy hours before the EPA was due to publish new rules
The Environmental Protection Agency today will release President Obama's new rules for power producers, rules that are expected to reduce greenhouse gas emissions in the sector more than 30 percent by 2030.
As the White House puts its cards on the table, the second-largest U.S. coal producer is folding its current hand and reshuffling.
Alpha Natural Resources declared bankruptcy this morning to get out from under $3.3 billion in debt accumulated over the past several years. The specific timing of its filing—hours before the EPA publishes its rules—may be coincidental. That it has happened at all is not.
Several factors converged to bring about coal's collapse, of which Obama is only the easiest for coal industry leaders to blame. There's the U.S. natural gas boom, which gave power producers a cheaper, less-polluting alternative. Coal companies took on debt around 2011, when Chinese demand pushed prices up globally, according to Bloomberg. That binge has wound down since then, taking coal prices with it, and coal companies like Alpha Natural Resources are left holding the bill.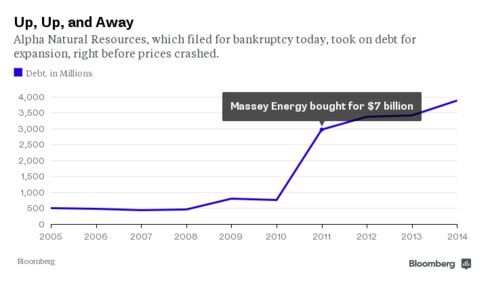 "The change and challenges the U.S. coal industry has experienced over the last several years are greater than any in the past three decades," said Alpha's chairman and chief executive officer, Kevin Crutchfield, in a press release. "There is no doubt more uncertainty ahead, but also transformational opportunity in the coal sector for those who make proactive, strategic decisions." Alpha sells its coal, from 50 mines, to power generators, steelmakers, and industrial companies.
While Alpha turns its attention inward, its peers are bracing for a fight. They have been for a while. Closely held Murray Energy today announced that it will file five lawsuits against the the Clean Power Plan, which, the company said in a release, "will adversely restructure the electric power system in America and will force every State to radically change their energy policies." Murray sued the EPA unsuccessfully last year, but the case was thrown out because the rules had not yet been finalized.
The Obama administration released a preview of the plan ahead of the rules, with a snazzy promotional video.