Australia Probably Will Cut Rates Again With China's Slump Wrecking Resource Exports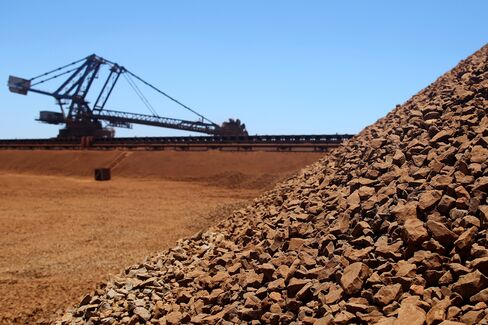 Signs China's economy is weakening are helping fuel bets Australia's central bank will ease policy again even as it kept its cash rate unchanged on Tuesday.
China is the destination for most of Australia's iron ore and coal exports and the South Pacific nation "will be more sensitive to fluctuations in China's performance than other countries," central bank Governor Glenn Stevens said in June. Factory gauges released in the past week indicate a worse-than-expected outlook for the world's second-largest economy and the Bloomberg Commodity Index has slumped to a 13-year low.
While the Reserve Bank of Australia left its benchmark unchanged at 2 percent at its meeting on Tuesday in Sydney, Stevens said "further information on economic and financial conditions to be received over the period ahead will inform the Board's ongoing assessment of the outlook." Swaps markets are pricing in about an 80 percent chance of a reduction in the next year, data compiled by Bloomberg show.
"The Chinese economy isn't good," Hideaki Kuriki, an investor at Sumitomo Mitsui Trust Asset Management in Tokyo, said on Monday. "Commodity prices are plunging, especially iron ore and coal, along with crude oil." While he didn't predict a cut this month, the central bank could lower rates again this year, he said before the decision.
The following charts show how the outlook for China is affecting the Aussie economy as well as analysts' perceptions regarding both markets.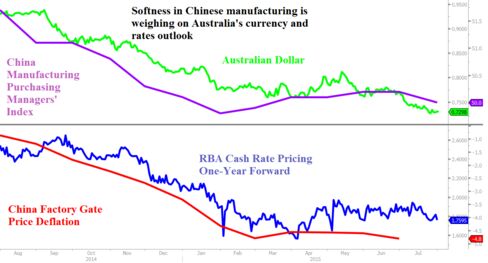 CHART 1: The top panel shows the worsening picture for China's manufacturing sector has been mirrored by the slide in Australia's currency. The lower panel tracks the accelerating decline in prices Chinese factories pay for materials, along with swaps markets pricing in further RBA easing.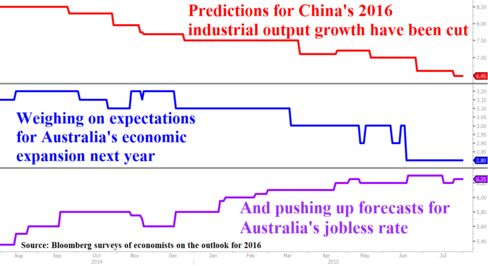 CHART 2: Surveys conducted by Bloomberg show economists are becoming more pessimistic about the outlook for industrial output in China and that's hurting expectations for how fast Australia's economy is likely to expand in 2016, while predictions that joblessness will decline from its current level of 6 percent seem to have gone by the wayside.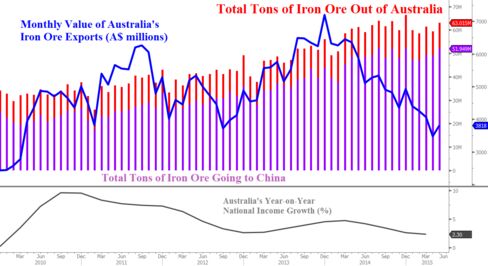 CHART 3: The upper part of the chart shows Australia's iron-ore shipments to China plateauing and prices for the steelmaking material dropping, meaning the revenue that Australia earns from its biggest export has fallen by almost half from its peak. That has contributed to a slowdown in national income growth, as illustrated in the bottom panel.
Before it's here, it's on the Bloomberg Terminal.
LEARN MORE