London Tube Facing Wednesday Strike as Latest Deal Spurned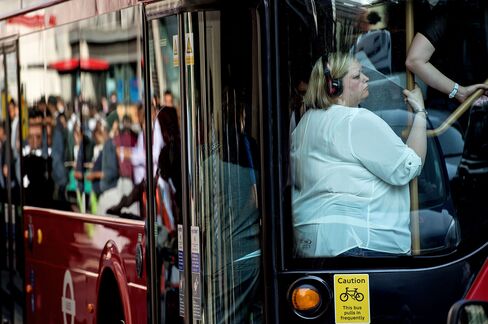 Unions representing London's subway workers rejected the latest pay offer tied to Mayor Boris Johnson's plans for 24-hour operations, making a strike aimed at shutting down the network from Wednesday evening more likely to go ahead.
The Rail, Maritime and Transport union and Aslef, which represents train drivers, said the latest proposal from London Underground Ltd. fails to address the "work-life balance" of staff, offering no guarantee on the number of weekend rest days.
Aslef said Monday it's be ready to continue talks but that management plans to issue Night Tube working rosters this week ahead of the planned introduction of the service on Sept. 12 will form a fresh obstacle. The RMT said the latest offer amounts to a "re-hash of previous plans" that's left members furious, while adding that it's willing to extend negotiations.
"The sensible option would be to postpone the launch date to allow for an agreed way forward to be reached," Aslef said.
Transport for London, which oversees London Underground and answers to Johnson, said unions are seeking a "32 hour, four-day week," further pay and an increased headcount. While the latest offer doesn't add extra value, it commits to ensuring drivers have the same number of weekend breaks as now, with each person able to choose whether to work nights, TfL.
Unions have called on members to strike for 24 hours from Wednesday evening, with TfL saying the Tube will close completely on Thursday if the action goes ahead. A walkout over the same period of the week last month disrupted travel for millions as buses and surface trains struggled to cope with extra passengers and roads became clogged with traffic.
Johnson wants to introduce 24-hour running on five of London's subway lines, initially limited to Fridays and Saturdays. The RMT said today that the "botched" plan will produce a service that caters to "a few thousand revelers," while causing disruption every Monday as almost three days of continuous running impact safety, reliability and quality.
Before it's here, it's on the Bloomberg Terminal.
LEARN MORE