Kerry Returns to Asia as China Tensions Shadow Asean Meeting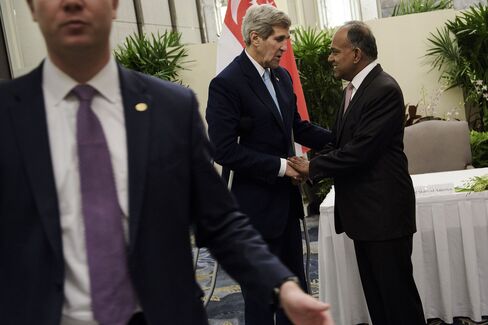 As U.S. Secretary of State John Kerry prepares to meet Southeast Asian counterparts in Malaysia, tension over China's territorial aspirations risks overshadowing a gathering that aims to promote regional economic and security ties.
Kerry and China's Wang Yi will join foreign ministers from the 10 members of the Association of Southeast Asian Nations in Kuala Lumpur Wednesday, days after China accused the U.S. of militarizing the South China Sea, the object of overlapping territorial claims by China and several Asean members. U.S. patrols in the area have riled the Chinese.
"I expect a number of countries would spell out and put forward their views on matters relating to the South China Sea," said Anifah Aman, the foreign affairs minister of Malaysia. "Any developments toward the possibility of increasing militarization of the South China Sea must be avoided."
While the U.S. still wields considerable influence in Southeast Asia, much of the region is heavily dependent on trade and investment with China, which claims sovereignty over about four-fifths of the sea according to a so-called nine-dash line map it drew in the 1940s. China continues to develop artificial islands on disputed reefs.
U.S. Defense Secretary Ashton Carter in May called on China and its neighbors to agree on a proposed code of conduct for the area before year's end at a conference of regional defense ministers in Singapore. China agreed to talks with Asean over a code of conduct in 2013.
'Improper Remarks'
Wang,in a press briefing in Singapore Monday, criticized "non-regional" countries for interfering in the talks, the official Xinhua News Agency reported.
"We welcome non-regional countries to support the COC consultation, but we don't welcome non-regional countries to make improper remarks on COC consultation," Wang said.
Wang reiterated China's position that it will resolve disputes with individual countries, not through a multi-nation platform.
"China will obviously want to deflect criticism regarding the South China Sea, and highlight its economic initiatives," particularly the AIIB, the One Belt-One Road initiative, said Gregory Poling, a Southeast Asia specialist at the Center for Strategic and International Studies in Washington, referring to the Beijing-led Asian Infrastructure Investment Bank and its plan to revive the Silk Road trade route to Europe.
Economic Power
The attraction of Southeast Asia for the major powers is clear: The region -- home to some 600 million people, an increasing number of whom are joining the middle class -- had a combined GDP of $2.6 trillion in 2014, making it the seventh largest economy in the world. It is on track to become the fourth largest by 2050, according to Asean. Southeast Asia is also strategically located on some of the busiest shipping lanes in the world, with $5.3 trillion in global trade passing through its waterways each year, according to JPMorgan Chase & Co.
Poling said it "wouldn't be at all surprising to see new 'deliverables' announced by Kerry in the form of new U.S.-funded programs in the region." At the same time, he said China could announce "new big ticket investment deals or new cooperative frameworks."
"Southeast Asia obviously sits astride the most important trade routes in the world, the countries are dynamic engines of economic growth and innovation, and the region is still marked by some real security challenges," said Amy Searight, the U.S. deputy assistant secretary of defense for South and Southeast Asia.
Overlapping Claims
China's territorial assertions in the South China Sea extend hundreds of miles south from its Hainan Island to equatorial waters off the coast of Borneo. China and Vietnam both claim the Paracel Islands, and Asean members Brunei, Malaysia and the Philippines have claims to other areas.
Philippine Foreign Minister Albert del Rosario called again Tuesday for the implementation of a code of conduct, while also criticizing China for continuing its "aggressive activities that heighten existing tensions."
"As we speak, we see no let up on the unilateral and aggressive activities of our northern neighbor in the South China Sea," he said. The actions "have threatened freedom of navigation and freedom of overflight and raised the risk of miscalculations if not conflict."
U.S. Leadership
Asean, which has a policy of non-interference in the internal affairs of member nations, has often been criticized for failing to take a united stance on key regional issues, including the South China Sea. Even so, Asean leaders released a statement at the close of their summit in April saying they have "serious concerns" about land reclamation in the disputed waters, warning it could "undermine peace, security and stability."
"I think most of these countries, even those that are very worried about Chinese activities in the South China Sea, are really looking to the United States to do more, and some of them would really like to hide behind the United States," Bonnie Glaser, a China expert at CSIS, said last month at the Aspen Security Forum. "They don't want to do very much themselves."
China accused the U.S. last week of exaggerating the military threat in the South China Sea and adopting double standards by criticizing China's activities and ignoring the Philippines' occupation of what it says are Chinese islands and reefs. China has also protested U.S. spy planes entering what it claims as its territory in the area.
"The U.S. disregards and distorts the facts and plays up China's military threat to drive a wedge between China and the littoral nations in the South China Sea," Defense Ministry spokesman Yang Yujun said in Beijing on July 31. "We firmly oppose such actions."
Before it's here, it's on the Bloomberg Terminal.
LEARN MORE