ITG Removes Gasser From CEO Role Amid Dark-Pool Probe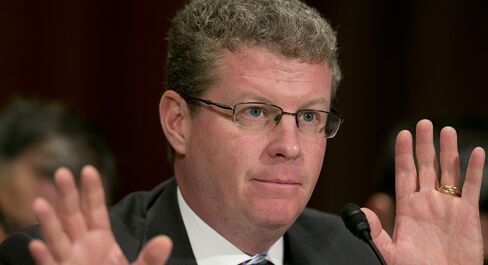 Investment Technology Group Inc., the broker that says it may have to pay the largest-ever fine for a dark-pool infraction, has removed Bob Gasser from the role of chief executive officer.
ITG, which had cultivated a reputation over more than 30 years of acting in its clients' interests, said on Monday that Gasser's nine-year tenure as CEO had come to an end, days after the company said a unit used information unknown to customers to trade against them. Jarrett Lilien became interim CEO with immediate effect. Lilien was already a member of ITG's board and had worked at E*Trade Financial Corp. as president and chief operating officer.
General Counsel Mats Goebels has also left the firm. Angelique DeSanto, ITG's associate general counsel, has replaced him.
The company, which operates one of the largest dark venues for U.S. equity trading, revealed last week that it may have to pay a record fine to the Securities and Exchange Commission for rule breaking in its dark pool. ITG revealed last Wednesday that a market-making unit run by a subsidiary traded using information not available to other customers of ITG's private stock-trading system in 2010 and 2011.
"We believe this step is in the best interest of ITG's shareholders and clients," Ashley Serrao, an analyst at Credit Suisse Group AG, said in a note to clients following the announcement.
Maureen O'Hara, ITG's chairman, said in a statement that the potential settlement remains in process.
$20 Million Fine
ITG's stock dropped 5.5 percent at 10:55 a.m. New York time. The shares slumped 24 percent last Thursday on their first day of trading after the company revealed that it faced a $20.3 million fine.
Gasser had already publicly apologized for the firm's handling of the market-making business.
"In hindsight, I recognize that our client disclosures about the pilot were insufficient," Gasser said in a conference call on Thursday morning. "I deeply regret our lack of disclosure."
Rich Repetto, an analyst at Sandler O'Neill & Partners LP, said that Gasser's departure was unfortunate but understandable.
"Whenever the credibility of a company is in question, they're going to have to work with customers, so that's what they're going to be doing, trying to make sure they keep their trading volume at ITG," he said.
Kevin Callahan, a spokesman for the SEC, declined to comment on ITG's management changes.
(Corrects spelling of Angelique DeSanto's first name in third paragraph of story originally published Monday.)
Before it's here, it's on the Bloomberg Terminal.
LEARN MORE