Israeli Tolerance of Extremism Blamed for Spurt in Violence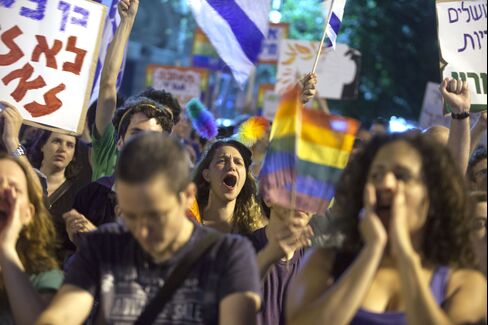 A firebombing that killed a Palestinian toddler and critically injured his sleeping family. A stabbing rampage at a Gay Pride parade that claimed the life of a 16-year-old Israeli girl. The torching of a venerated Roman Catholic church.
Israeli Prime Minister Benjamin Netanyahu condemned the firebombing as terrorism and denounced the other assaults, vowing justice would be done. Critics say authorities fan Jewish extremism by not addressing it aggressively enough.
"Every society has extremists on its margins," President Reuven Rivlin said Saturday at a Jerusalem protest over the mounting violence. "But today, we have to ask ourselves, what is the public atmosphere that allows extremists to walk in confidence in broad daylight?"
While the two deadly attacks within a matter of hours have shocked many Israelis, prompting thousands to join impromptu protests, assaults on minorities are not unprecedented. Rights groups have cataloged hundreds of incidents of Jewish civilian violence against Palestinians and their property over the past decade, including the firebombing of nine homes and a taxi.
Two Israelis were shot to death at a Tel Aviv gay center six years ago. Three were knifed at a pride parade in 2005 by the same man suspected in Thursday's deadly assault, which also wounded five. Dozens of church institutions and mosques have been vandalized in Israel and the West Bank in recent years, clerics say, including the June attack on the Church of the Multiplication commemorating Jesus's biblical feeding of the masses.
Few Convictions
Jewish radicals have even attacked Israeli military property to protest government action against unsanctioned settlement construction.
"There have been remarkably few convictions" and sentences have been "relatively light," creating the sense of impunity, said Jonathan Spyer, a political scientist at the Interdisciplinary Center Herzliya.
The Jewish extremist violence primarily stems from a "particular fringe," concentrated in the northern West Bank, "where ultra-Orthodoxy meets ultra-nationalism," he added.
Authorities are much more lenient toward Jewish extremists than they are toward Palestinians suspected of militant activity.
Double Standard?
"I call on you, Mr. Prime Minister, to deal with Jewish terrorism in the same way you deal with Islamic terrorism," parliamentary opposition leader Isaac Herzog of the Zionist Union bloc said Saturday at a Tel Aviv rally protesting the violence.
Israel's Yesh Din human rights group said in a May report that it monitored more than 1,000 investigations into claims of Israeli civilian violence against Palestinians in the West Bank between 2005 and 2014. Indictments were filed in 7 percent of the cases, and one-third of the prosecutions ended in convictions, it said.
Israel police didn't have specific figures for arrests, but said they were up 98 percent in the West Bank last year compared with 2013.
Too Broad
Netanyahu said in a text message from his office on Tuesday that his government was committed to "zero tolerance" for terrorism and would "bring the full force of the law" against perpetrators of terrorist attacks and hate crimes.
Hatred has become a dangerous common denominator in Israeli society, Netanyahu's former justice minister, Tzipi Livni, said at the Tel Aviv rally on Saturday.
"Those who yell 'Death to Arabs' on the soccer field are those who think 'gay' is a curse word," said Livni, now an opposition lawmaker from Zionist Union. She held Netanyahu and other officials responsible for the violent climate, recalling he warned that his Likud party risked losing the March elections because Arabs citizens were flocking to the polls "in droves."
The prime minister later apologized for the remark.
Some people have cautioned against painting too broad a picture of Israeli intolerance and tarring entire communities because of the actions of small numbers of people.
"I won't agree in any way to accept the attempt to sully the 430,000 wonderful Israelis who live in Judea and Samaria, those who are called 'settlers,'" Education Minister Naftali Bennett, leader of the Jewish Home party, vowed on his Facebook page, using the biblical name for the West Bank.
Rivlin's criticism of the state of Israeli society drew a slew of nasty responses, including threats to his life on his Facebook page. The president filed a complaint with police, his office said.
"We won't be able to extinguish these flames by damping them," Rivlin said at Saturday's rally. "We must be very thorough and clear, from the school system to the legal system to those who steer this nation's course."
Before it's here, it's on the Bloomberg Terminal.
LEARN MORE