Iran's Zarif Calls for Regional Talks Beginning With Yemen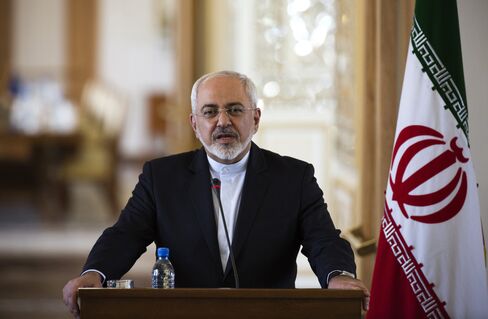 Iran called for regional dialogue to resolve crises in Yemen and Syria, as it sought to ease concerns over its foreign policy after last month's nuclear deal.
In an opinion piece in Lebanon's Assafir newspaper, Foreign Minister Mohammad Javad Zarif wrote that cooperation on Yemen would be a good start for serious talks in the region. He proposed that all Muslim countries be involved in talks to end the conflicts there and in Syria, under United Nations supervision.
The nuclear pact Iran reached with world powers in Vienna has rattled Gulf countries skeptical about rival Iran's atomic ambitions. Secretary of State John Kerry is currently in the region meeting with Gulf foreign ministers seeking new security assurances after the accord.
Zarif said his planned visits to Kuwait, Qatar and Iraq were evidence of his country's commitment to establishing good ties with its neighbors. The region will benefit from the nuclear deal as it "would not cause harm to our neighbors," he said.
"Such necessary cooperation is not the bitter type between enemies but a sweet path to reform and friendship between brothers and members of the same family who parted for a while," Zarif wrote.
Zarif also proposed a regional nuclear center to produce nuclear fuel, and called for a regional political effort to establish nuclear-free Middle East.
Strained Ties
The war in Yemen has also strained already tense ties between regional powerhouses Iran and Saudi Arabia. Saudi Arabia has been bombing Yemen since March in a bid to reinstate President Abdurabuh Mansur Hadi, whose administration was ousted by Shiite Houthi rebels with links to Iran.
Zarif proposed a four-point plan to end the fighting in Yemen, entailing an immediate cease-fire, humanitarian aid, facilitation of dialogue between Yemeni groups and the formation of an inclusive, unity government.
His deputy reiterated Iran's condemnation of the Saudi offensive in Yemen while calling for an opening of dialogue to mend ties and end regional conflicts.
"We believe Saudi's reliance on force in order to solve the regional issues, especially in Yemen, is a strategic error," Iranian Deputy Foreign Minister Hossein Amir-Abdollahian was quoted as saying on Iran's state-run Arabic-language TV station, al-Alam.
"Even though we don't believe in this approach we are of the opinion that Tehran-Riyadh relations must return to being normal and acceptable," he said, according to the official Islamic Republic News Agency. Iran hopes Saudi Foreign Minister Adel Al-Jubeir's positive response to Iran's call for dialogue will be put into practice, he added.
Iran has no plans for joint action with the U.S. against Islamic State, he said.
Before it's here, it's on the Bloomberg Terminal.
LEARN MORE