Cars Returning to Indian Roads Driving Record Rubber Imports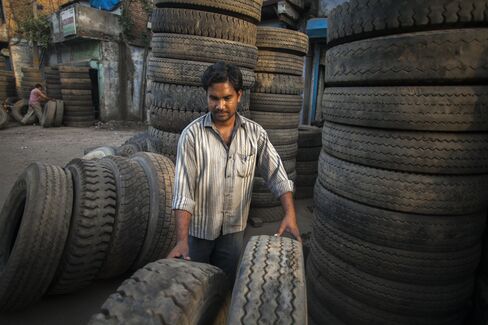 India's natural rubber imports are set to climb to a record as a rebound in automobile sales boosts demand and domestic production slumps to a 17-year low.
Output may decline 5 percent to 7 percent in the year that began on April 1, said Rajiv Budhraja, director general of the Automotive Tyre Manufacturers' Association. That may increase purchases from overseas as car sales extend a rebound from the biggest drop in a decade.
The increase in imports to cover a domestic shortfall may help stem further losses in rubber prices that entered a bear market on Tuesday. The commodity is in the fifth year of glut after plantations across Southeast Asia went on an expansion spree from 2004 to 2011, according to the International Rubber Study Group.
"You have a situation where there is a drop in production and further increase in consumption, and that gap will only widen in the coming years," Budhraja said in an interview on July 30. "Imports will definitely exceed last year's levels."
Production was 645,000 tons in 2014-2015 and a 5 percent decline would trim harvest to 612,750 tons, the lowest since 1998-1999, according to data from state-owned Rubber Board.
Overseas purchases rose 5.5 percent to 106,294 tons in the quarter ended June, extending a 23 percent jump in shipments to a record 442,130 tons in 2014-2015, board data show. Consumption is seen at 1.06 million tons this year, the board estimates.
Crop Switch
Benchmark rubber prices in Tokyo, which slid to a five-year low in October, are heading for a third straight year of declines. The contract for January delivery on Tokyo Commodity Exchange settled at 194.5 yen a kilogram on Tuesday. Futures have lost 20 percent from this year's high in June.
The slump in prices is already forcing farmers in Kerala, the Indian state which produces 80 percent of the nation's rubber, to switch to alternate crops, according to N. Radhakrishnan, adviser of Cochin Rubber Merchants Association.
Output is already down by 14 percent in the quarter ended June 30, board data show. About 86,000 hectares (212,511 acres) of plantations will be left untapped this year because of low prices, according to Association of Natural Rubber Producing Countries.
The warm and dry weather caused by El Nino may curb latex production among growers including India in the coming months, Mayur Milak, a research analyst with Mumbai-based Anand Rathi Share and Stock Brokers Ltd., said in a report July 27. The global surplus will still reach 303,000 tons this year, more than the 77,000 tons predicted in January, according to the International Rubber Study Group, which predicts demand to grow at 1.2 percent, less than the 6.7 percent in 2014.
Demand for rubber in India is being fueled by the nation's automobile industry, which uses 66 percent of the output, Budhraja said. Car sales recovered in the year ended March after declining the most in a decade in the previous 12-month period. Sales will increase marginally this year, the Society of Indian Automobile Manufacturers said last month.
Before it's here, it's on the Bloomberg Terminal.
LEARN MORE